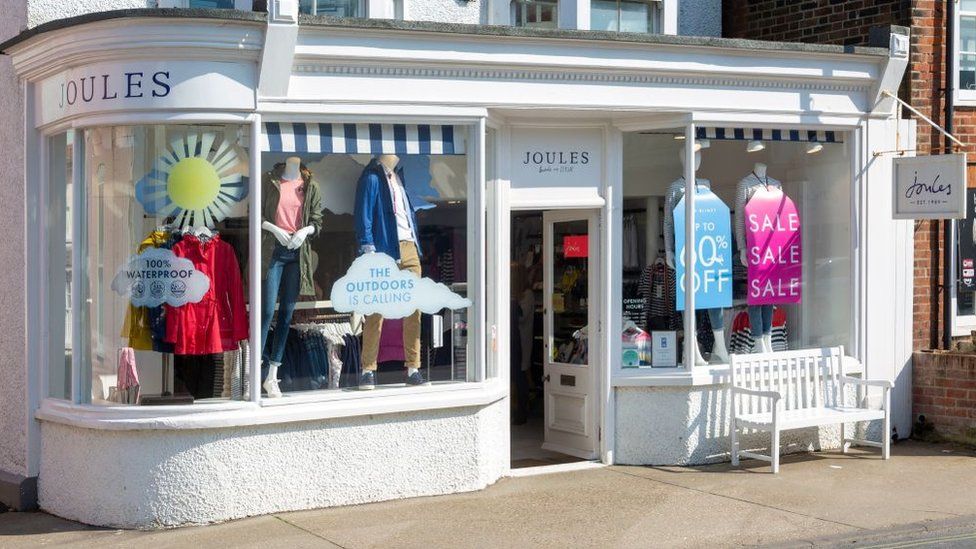 Clothing group Joules has collapsed into administration, putting 1,600 jobs at risk.
The Leicestershire-based company, which has 132 shops, took the step after failing to secure emergency investment.
The firm will be run as a going concern over Christmas while the administrators look for a buyer.
Many retailers have been struggling as consumers cut spending amid rising prices. Inflation rose to 11.1% in October, latest figures show.
Will Wright, one of the administrators from Interpath Advisory, said: "Over the coming weeks, we will endeavour to continue to operate all stores as a going concern during this vitally important Christmas trading period while we assess options for the group, including a possible sale."
Mr Wright added that there had been "an overwhelming amount of interest from interested parties" in Joules.
"At this stage we are optimistic that we will be able to secure a future for this great British brand," he said.
Joules said last week that recent sales had been weaker than expected.
It said this was largely due to "the challenging UK economic environment which has negatively impacted consumer confidence and disposable income".
Last week, furniture retailer Made.com fell into administration, leading to hundreds of job losses, with High Street giant Next buying Made's brand name, website and intellectual property.
Next had been in talks with Joules during the summer over taking a stake in the company, but these discussions ended in September.
Why are prices rising so much?
Joules was founded by Tom Joule, and started out selling clothes at country shows in 1989.
Mr Joule said he had started the firm with "one man, one tent and a lot of enthusiasm", finding a niche in the market when he realised there was a demand for colourful clothing amid the standard tweeds worn to such events.
On Monday, Mr Joule said the business "has become too complex and our model today is not aligned to succeed in the current, tough trading environment".
As well as the Joules stores and online business, the Joules Group also runs the online-only Garden Trading Company.
The squeeze on consumer spending, with households facing prices rising at the fastest pace for 40 years, has led to problems across the retail sector.
Last week, Marks and Spencer warned of a "gathering storm" of higher costs for retailers and pressure on household budgets, adding that "all parts" of retail would be affected.
More on this story
Made collapse: 'I'm waiting for a £1,800 refund'

M&S warns of 'gathering storm' as shoppers squeezed