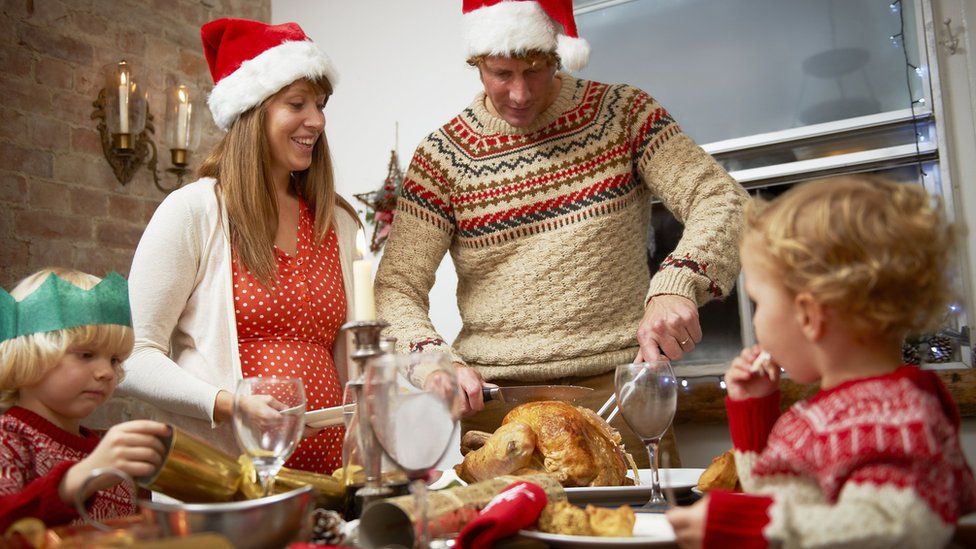 Christmas dinner will be nearly 22% more expensive this year than in 2021, according to new research for the BBC.
The price of seven key items has risen by £5.36 over a year, with chipolatas – the crucial ingredient in pigs-in-blankets – seeing the steepest jump.
As households grapple with cost of living pressures, many will be looking for cheaper options for the big day.
But the data suggests some standard products have gone up at a faster pace than their "premium" equivalents.
Retail research firm Assosia analysed the average price of seven products across Tesco, Sainsbury's, Asda, Morrisons and Lidl as well as Aldi click-and-collect.
A basic Christmas dinner – comprising a frozen medium-sized turkey, stuffing balls, Brussels sprouts, roast potatoes, pork chipolatas, onion gravy and mince pies for dessert – will cost £30.03 compared to £24.67 last year.
It perhaps isn't so surprising that this year's festive meal will be more expensive given the cost of living is rising at its fastest pace in 40 years.
But the price of every item on our list – except for the divisive Brussels sprout – has increased at more than the rate of inflation, which reached 11.1% in October.
The sharpest price rise on the BBC's list by far is for chipolatas, up 42.7% to £2.13 for a packet of 12.
Nick Allen, chief executive of the British Meat Processors Association, says that the pork industry has been hit by a succession of cost increases over the past 12 months.
Some of these – energy prices and the cost of grain-based animal feed – are linked to Russia's invasion of Ukraine, while others stem from Brexit, such as a lingering shortage of labour after freedom of movement ended, which has forced wages to rise.
What's the effect on shoppers been? "I think you're seeing less demand for the higher value products," says Mr Allen. "The sort of things that, dare I say, have been titivated up and had quite a bit of value added to them."
But according to Assosia's data, the price rise for premium chipolatas, up 15.4%, is not nearly as steep as its cheaper version. But at £2.80 for a packet of 12, the premium range is still more expensive.
It is the same for mince pies and stuffing balls. A standard pack of six ice-topped mince pies is £1.55 compared to a posher version which retails for £2.08. But between last year and this year, the price of standard mince pies has risen by more than 30% while the premium has increased by 16.5%.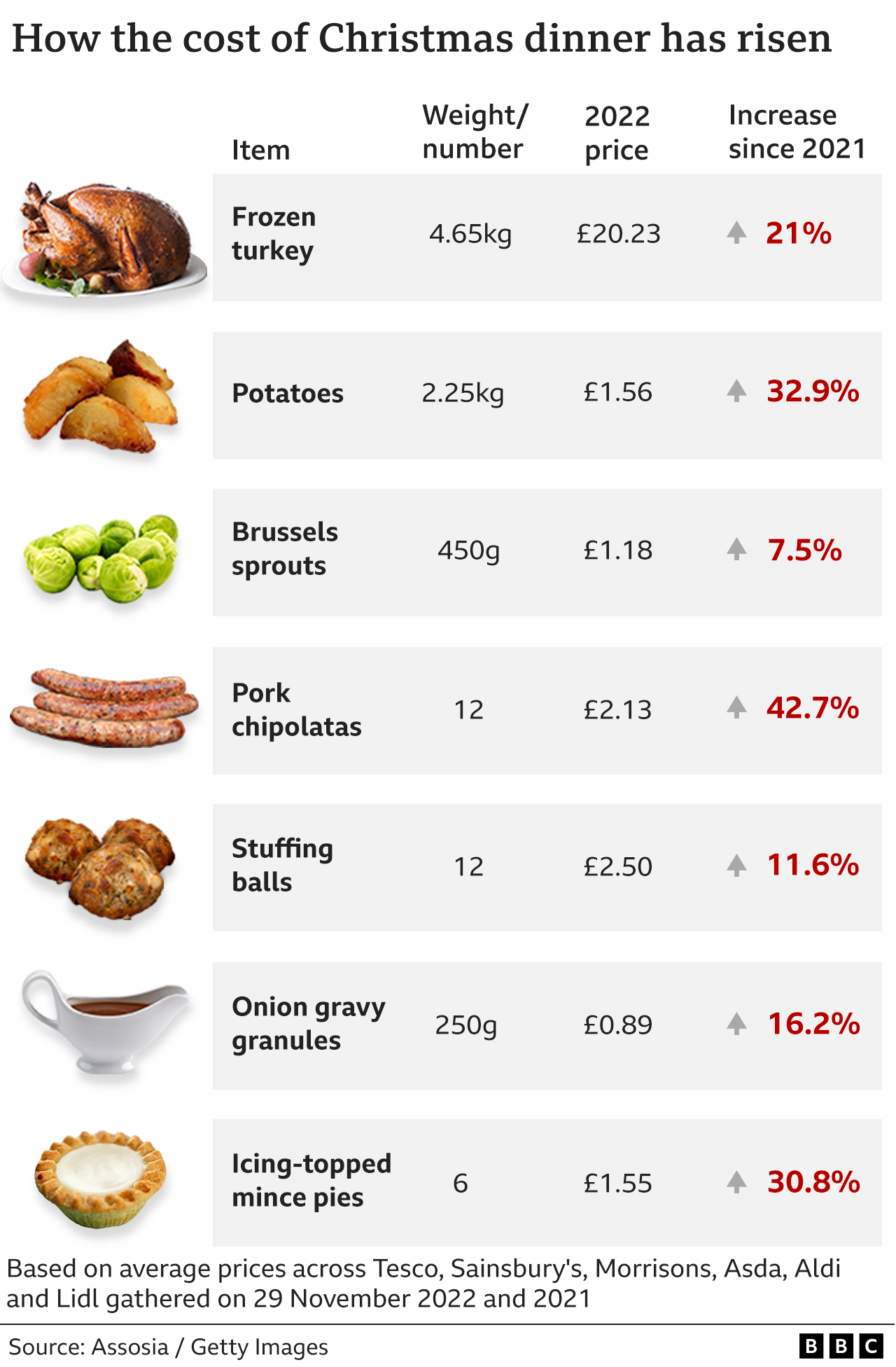 For those plumping for a turkey this year, they are likely to spend more for their bird, even if they go for a cheaper frozen option, which Assosia says will cost 21% more than 2021 at £20.23.
While the turkey industry faces many of the same challenges as pork producers, this year it has been particularly blighted by avian flu which has led to hundreds of thousands of birds being culled.
"This is the worst year I've ever had to manage," says Paul Kelly, a free-range turkey farmer whose family established the business in Essex more than 50 years ago. "The challenges we've had this year have been unbelievable."
Some families have decided not to have a turkey this year to keep costs down.
Lisa-Anne Campbell, a mum-of-two from Hertfordshire, says rising energy bills and food prices mean she is cutting back in all areas.
"The costs are extraordinary," she told the BBC. "I don't have the heating on to save as much money as I can. I'm only buying Christmas presents for my two children this year."
Lisa-Anne has epilepsy and no longer drives. Her nearest supermarket on foot is a smaller convenience store so she says it is often a struggle to find any products in the value ranges.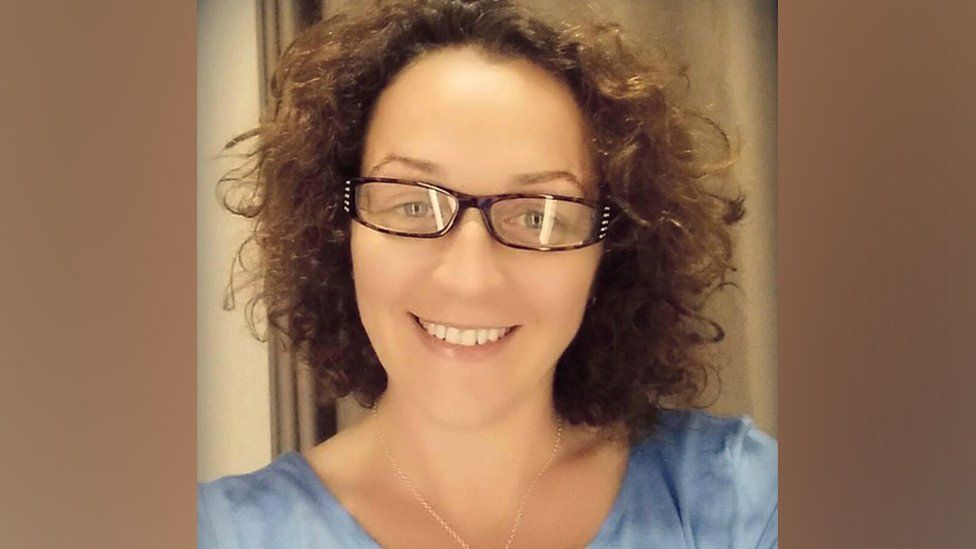 She says that for Christmas lunch, the family will be swapping roast turkey for chicken and honey-roasted parsnips for frozen peas to keep costs down.
"We've got enough to pay for, and Christmas lunch just isn't the priority right now," she says.
Some supermarkets, such as Tesco and Asda, are attempting to entice shoppers by selling an all-frozen Christmas dinner for a family of five for £25 and £22 respectively. Even Poundland has got in on the act with its own version.

How to save on Christmas food
Prepping for the festive season in advance not only spreads the cost but could mean big savings on food and drink:
Start with a budget: It helps to plan ahead and think carefully about hidden expenses, like the price of tin foil for roasting a turkey.
Write a food list: Once you've got a budget figured out, ask which foods are most important to you and which you might not miss. For example, you might not be willing to give up Christmas pudding, but aren't that fussed about festive biscuits.
Bargain hunt: Look out for planned offers on retailers' websites as well as for yellow sticker items which have been reduced.
Use your freezer: Christmas foods that freeze well include butter, meat joints and some cheeses like cheddar.
Join up with friends and family: This means you can buy bigger pack sizes, which are often better value.
Read more from the BBC Food team here

But there are still potential savings to be made between now and the big day. Assosia's data is based on prices taken on 29 November and items could fall sharply between now and the mad dash on Christmas Eve.
Last year in the final week before Christmas, some supermarkets were selling 500g of sprouts for 19p and 2.5kg of potatoes for 28p. "I would doubt that they would go quite so low this year," says Ged Futter, director at The Retail Mind consultancy and a former food buyer for Asda.
"But certainly there will be big reductions on all of those products in Christmas week because there always are."
Additional reporting by Nicu Calcea

Should you shop now to save on Christmas dinner?
Family £1 recipe meal plan
Your personal guide to saving money


More on this story
'My Christmas lunch will be a microwave meal'

Why are prices rising so much?