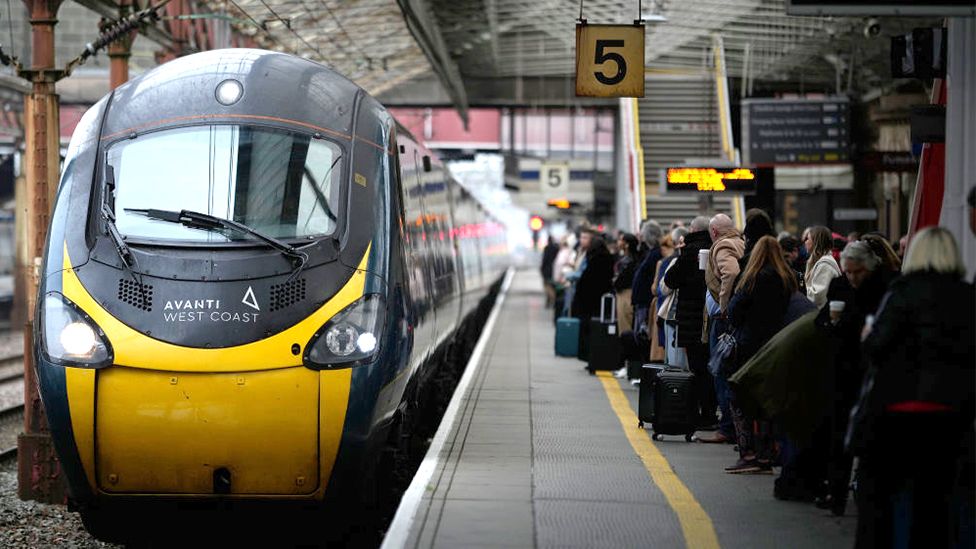 Regulated rail fares in England will rise by up to 5.9% from March, the Department for Transport has announced.
The rise is being capped at a level well below inflation, "to help reduce the impact on passengers", the transport secretary said.
Labour called the hike – which is still the second highest on record – "a sick joke", while a watchdog said passengers were not getting value for money.
Fares will officially rise on 5 March 2023.
Before the Covid pandemic, fares were raised in January each year, based on the retail prices index (RPI) measure of inflation from the previous July.
Inflation is the rate at which prices rise, and the normal formula for fares is RPI plus 1%.
However, the government said that "for this year only" rail fare increases for 2023 would be capped at 5.9%, well below July's RPI figure of 12.3%.
Like last year, the government is also freezing fares for January and February, so that passengers have more time to buy tickets at the existing prices.
The train strike days in December and January
Why are prices rising so much?
Transport Secretary Mark Harper said the rise represented a "fair balance" between passenger and taxpayer needs, and described the move as "the biggest ever government intervention in rail fares".
"It has been a difficult year and the impact of inflation is being felt across the UK economy. We do not want to add to the problem," he said.
However, the increase to fares will be the largest since a 6.2% jump in 2012, according to analysis of Office of Rail and Road data by the PA news agency.
According to the independent watchdog Transport Focus, a monthly season ticket from Brighton to London Blackfriars that currently costs £430.10 would rise to £455.48 if it increases by 5.9%, while a monthly season ticket from Liverpool to Manchester would climb from £275 to £291.23.
If the price of an annual season ticket from Manchester to London rises by 5.9% it would increase from £16,884 to £17,880.16, Transport Focus said, while from Guildford to London it would climb from £4,084 to £4,324.96.
Labour said average fares had risen by 58% since 2010, twice as fast as wages.
"This savage fare hike will be a sick joke for millions reliant on crumbling services," said shadow transport secretary Louise Haigh.
"People up and down this country are paying the price for 12 years of Tory failure."



Prices are going up rapidly – and wages are not keeping up. People are getting poorer.
Meanwhile, anyone who has tried to use a train in the past couple of weeks will be well aware that the industry is not in good shape.
Some networks are better than others, but industrial action has caused disruption across the country.
So just imagine if you had to tell people right now they would have to pay 13% more for their tickets next year.
Because under the normal, RPI-linked formula, that's the magnitude of the increase we would be seeing. Obviously, it would cause uproar.
Capping the rise to 5.9% – a figure that is linked to earnings – might avoid that kind of political carnage.
But it is still the biggest increase in more than a decade, and some commuters will see their travel costs rise by hundreds of pounds.
And let's not forget – these are the regulated tickets. Unregulated fares may go up by a lot more.


Transport Focus warned that more needed to be done to improve the experience of passengers on the railways.
"After months of unreliable services and strike disruption, it's clear that too many passengers are not getting a value for money service," said its director, David Sidebottom.
"Capping fares below inflation and the delay until March is welcome and will go some way to easing the pain, but the need for reform of fares and ticketing in the longer-term must not be forgotten."
Regulated fares cover about 45% of fares, including season tickets on most commuter journeys, some off-peak return tickets on long distance journeys and anytime tickets around major cities.
The rise affects England, and mainline services from England into Wales.
It does not apply to Transport for Wales trains, but their changes tend to match those made across the border.
Fares for rail services in Northern Ireland are set by state-owned operator Translink, which does not use RPI. The Scottish government has not announced its plan for next year yet, though it has said that peak fares on the publicly-owned operator ScotRail will be suspended for six months.
The pandemic saw a steep drop in the number of train passengers, as more people worked from home, and numbers have remained well below pre-Covid levels.
Rail passengers have also faced disruption due to a wave of strikes, with further industrial action planned over Christmas and in early January.
Workers are demanding pay rises that reflect the soaring cost of living, while also trying to stop job cuts and changes to working conditions.
More on this story
The train strike days in December and January

Why are prices rising so much?