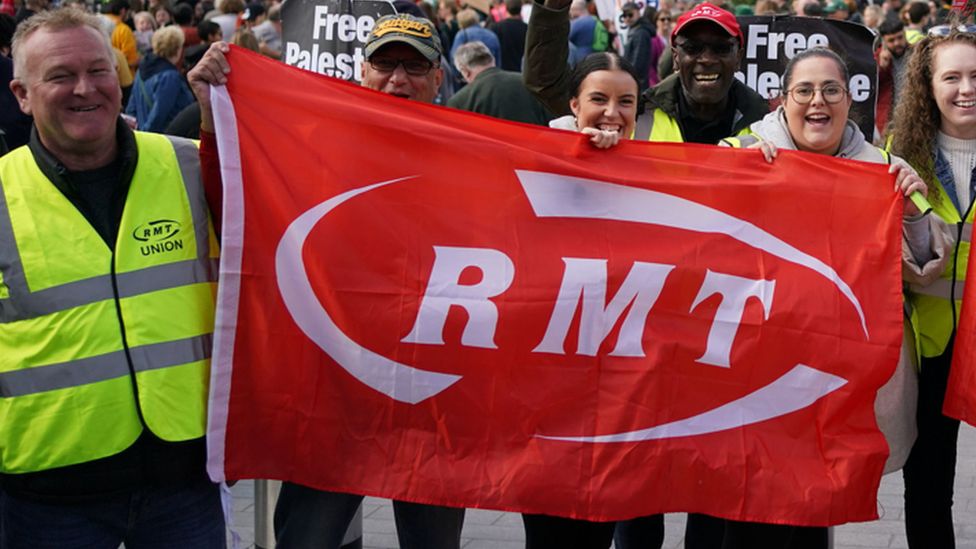 The number of working days lost to strikes in October reached the highest in more than a decade, according to official figures.
Some 417,000 working days were lost because of labour disputes in October 2022 – the highest since November 2011.
The UK has been hit by widespread industrial action this year as workers walkout over pay and conditions.
Another set of strikes by rail workers is starting on Tuesday.
Overall, the total number of working days that have been lost to people walking out in disputes since June – when the ONS restarted collecting data following Covid – reached 1.2 million days. It is the worst five months since April 1990.
The UK's biggest rail union – the RMT – has held a series of strikes since the summer that have shut much of the rail network in England, Scotland and Wales and threaten to hit businesses in the run-up to Christmas.
It comes as workers in many other industries down tools, with bus drivers, Royal Mail workers, nurses and highways workers and baggage handlers also striking this week.
The strikes taking place in December
When are the train strikes and what is the dispute about?
Many public sector workers are taking action over pay, arguing that the rises they are being offered fall far short of the rising cost of living.
Separate figures from the ONS revealed that a wide gap remained between wage growth in the public and private sectors in the August to October period.
Public sector wages rose at an annual pace of 2.7%, while those in the private sector were awarded an average increase of 6.9%.
The ONS said: "This is the largest growth rate seen for the private sector and is among the largest differences between the private sector and public sector growth rates we have seen."
Both, however, remain far below the rate at which prices are rising – known as inflation – which has hit 11.1%, the fastest pace in more than 40 years.
The ONS said that overall, regular pay grew by 6.1% in the three months to October. But taking inflation into account, wages fell by 2.7%.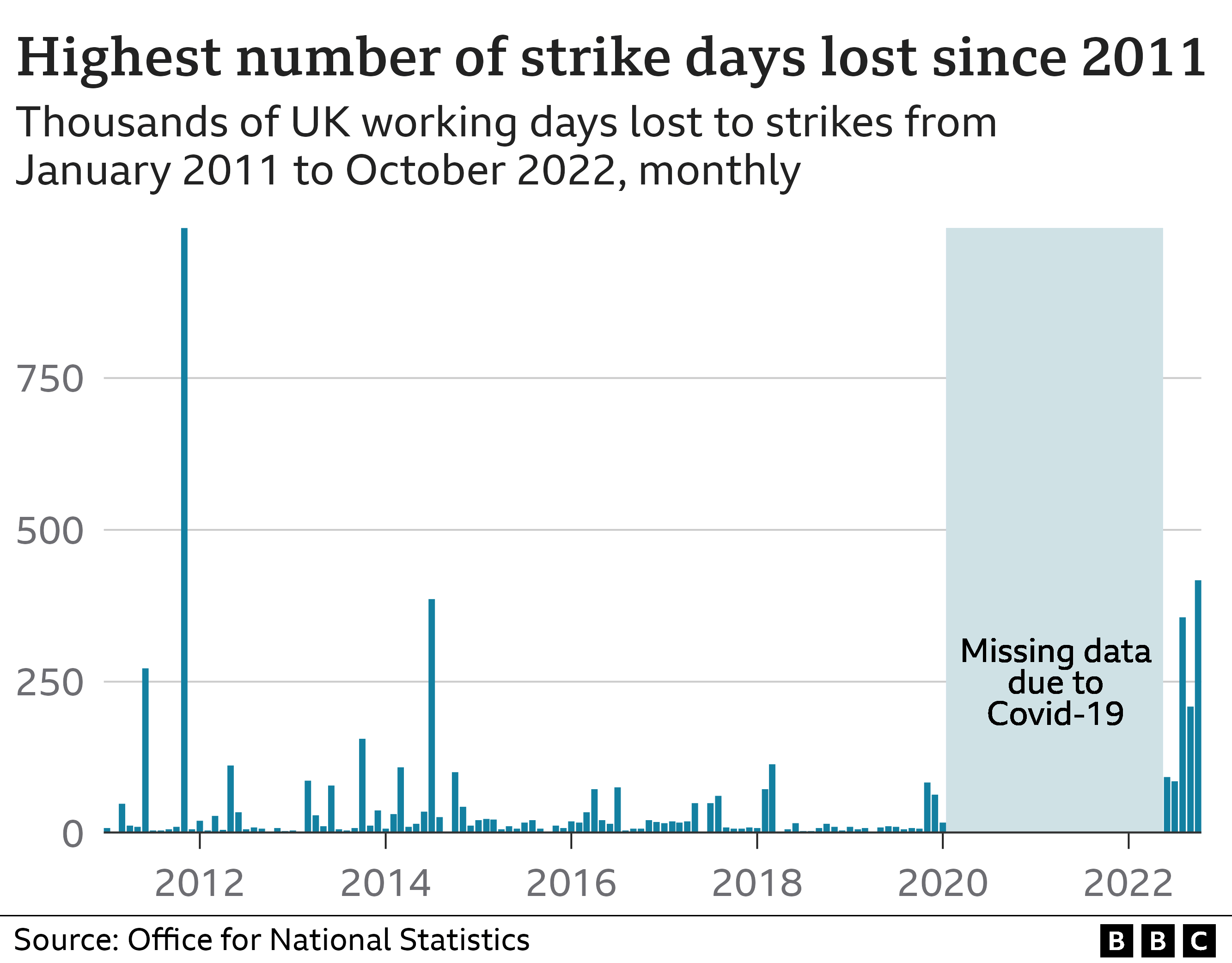 Sam Beckett, head of economic statistics at the Office for National Statistics, said that the sectors that have been hardest hit by strike action are transport and storage as well as information and communications.
"That's been largely driven by the rail and mail strikes," she told the BBC's Today programme.
Workers at Royal Mail who are members of the CWU union will take further strike action on Wednesday and Thursday this week. This will be followed by further walkouts on Christmas Eve.
Ms Beckett said it was difficult at this stage to assess how industrial action has affected the wider economy.
"We haven't really seen the influence of that in our GDP statistics yet. It is too early to say how it will hit the economy more broadly," she said.
Why are prices rising so much?
Overall, the unemployment rate rose to 3.7%. The number of job vacancies also fell, down 65,000 in September to November, which was the fifth consecutive fall for this measure.
Ms Beckett said the decline was a sign the jobs market "could be starting to soften a little" and an indication that some businesses were "were starting to pull some of their vacancies because they are reducing activity".
However, despite the fall, the ONS said job vacancies still remained close to historically high levels, with nearly 1.2 million roles available
There was also a decline in the number of people classed as economically inactive, which is those who are not in employment and have not sought work in the past few weeks. The most notable drop was among those aged between 50 and 64.
Jack Kennedy, UK economist at recruitment firm Indeed, said there was "evidence of some people returning to the labour force from retirement".
"That may be an early sign of cost-of-living pressures prompting some people to rethink their plans," he said.
But overall, inactivity remains more than 560,000 higher than pre-pandemic levels and continues to fuel recruitment challenges across a range of sectors, said Mr Kennedy.




Perhaps the most interesting statistic in these job numbers – and the most telling for the future of industrial relations – is the enormous gap between public and private sector wage growth.
While private sector pay growth is still failing to match inflation, private pay packages are rising at 6.9% with public sector miles behind at 2.7%, which is one of the biggest gaps ever seen.
That will add tension to pay disputes where the government is the employer or sets the parameters for pay discussions.
Private companies can afford to slim down their ambitions and pay fewer people more – which is not an option in the NHS.
The numbers bear this out. Vacancies in hospitality are down 11%, whereas vacancies are almost unchanged in public administration and have gone up in education.
This elastic band must surely break at some point. More workers will leave the public sector, jeopardising key services or the government will have to buckle and agree to higher pay awards. It feels like something's got to give at some point.


Jarrod Ayling, chief executive of Purple Jay Nurseries in south east London, said that despite putting up wages by 16% he is still having problems finding staff.
"It's extremely hard to get staff at the moment because the early years workforce has been depleted since Brexit and Covid so increasing the wage has increased the number of staff applying, but it's still slim," he said.
Mr Ayling said he had raised wages because workers were struggling with the cost of living, with some asking for advances to make ends meet.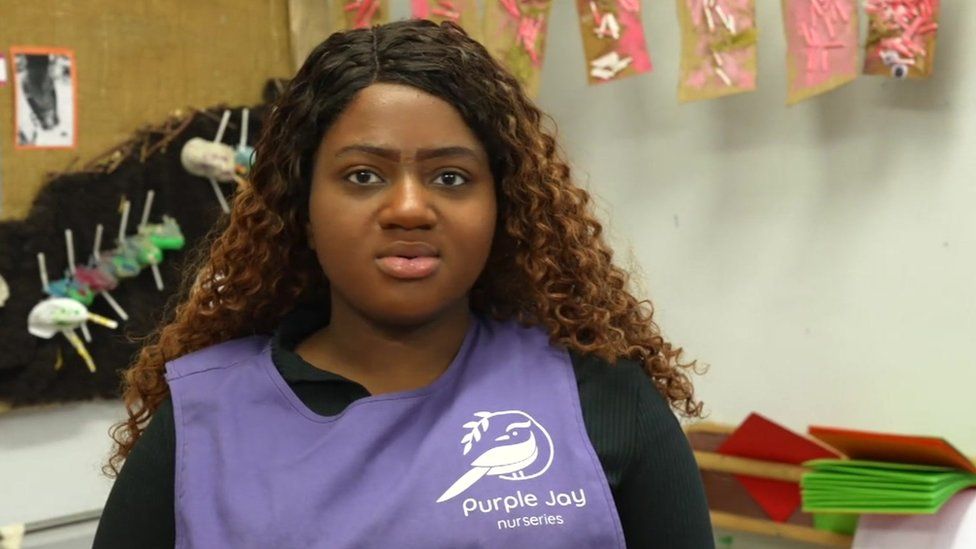 Kai Clarke, who works at Purple Jay Nurseries' Lambeth branch, said she was grateful for the 16% pay rise, but added: "Now it's like we've broken even because the salary has gone up but so have the bills.
"I would say that I'm happy and I'm grateful but the excitement has worn off because I've noticed it is all going into the bills. Even simple things like juice, milk and butter have gone up."
Mr Ayling said raising wages would have "a massive impact on my costs but I think it's needed because of the supply and demand situation".
Additional reporting by Ramzan Karmali.


How are you affected by the strikes? Are you taking part in strike action? You can email: haveyoursay@bbc.co.uk.
Please include a contact number if you are willing to speak to a BBC journalist. You can also get in touch in the following ways:
WhatsApp: +44 7756 165803
Tweet: @BBC_HaveYourSay
Or fill out the form below
Please read our terms & conditions and privacy policy
If you are reading this page and can't see the form you will need to visit the mobile version of the BBC website to submit your question or comment or you can email us at HaveYourSay@bbc.co.uk. Please include your name, age and location with any submission.
More on this story
Major cancellations as rail strikes begin

The train strike days in December and January

The strikes taking place in December

Strike daily: How Tuesday's walkouts will affect you