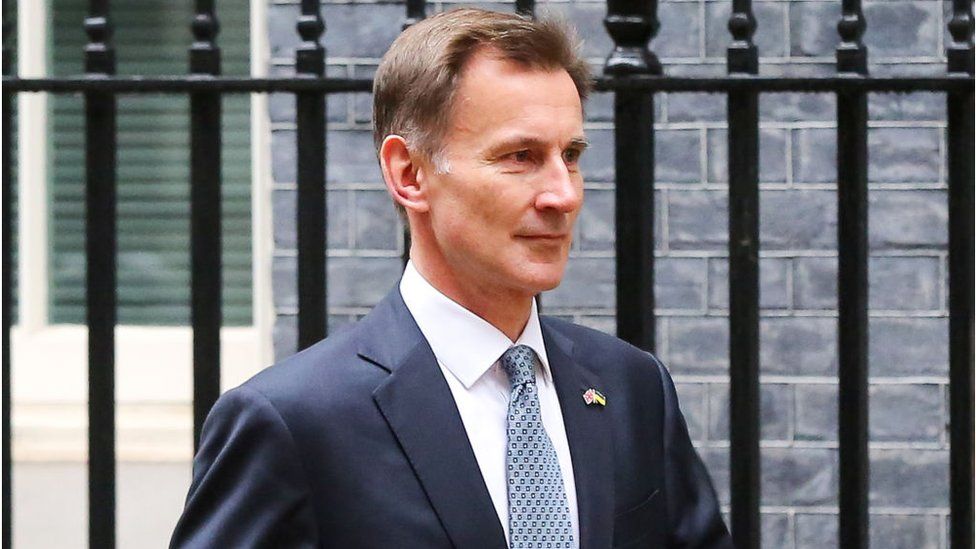 Chancellor Jeremy Hunt has ruled out tax cuts in a speech where he said that reducing inflation is key to boosting economic growth.
Mr Hunt outlined opportunities in what he calls "the growth sectors which will define this century".
But his speech, made ahead of the Budget in March, made it clear the rate of price rises would have to fall before taxes are reduced.
"The best tax cut right now is a cut in inflation," he said.
The rate of price rises has begun to slow but at 10.5%, inflation remains close to a 40-year high.
The chancellor made his speech in a week when the government has faced accusations that it has no long-term growth plan.
The CBI business group warned the UK is lagging behind rivals on green growth.
Insolvency firm Begbies Traynor said the number of firms on the brink of going bust has surged and car firms have warned the UK does not have a strategy to attract manufacturers.
Mr Hunt admitted that it is unlikely that the government will have headroom to cut business taxes in March.
Instead he set out "a plan for growth" focused on four pillars or "four Es": enterprise, education, employment and everywhere.
He said that while it was not a series of measures or announcements, it would provide "the framework against which individual policies will be assessed and taken forward".
Mr Hunt said the government planned to achieve growth in multiple sectors across the UK, including digital technology, green industries, life sciences, advanced manufacturing and creative industries.
But Susannah Streeter, senior investment and markets analyst at Hargreaves Lansdown, said "detail is sorely lacking" in Mr Hunt's plan. She said the architects of the plan are "clearly unsure how it will be paid for".
And Make UK, which represents the manufacturing industry, said: "We have to be honest that there have been some hugely damaging big picture issues caused by the absence of an industrial strategy which are impacting on some of our strategic sectors."
Mr Hunt said he wanted to tackle poor productivity and said the UK's exit for the European Union would encourage risk-taking and changing regulation.
"It is a plan necessitated, energised and made possible by Brexit which will succeed if it becomes a catalyst for the bold choices we need to take," he said.
Looking at the wider picture, Mr Hunt said that "declinism about Britain" was wrong.
"Some of the gloom is based on statistics that do not reflect the whole picture," he said.
He praised what he called "British genius and British hard work", and promised to turn that into prosperity in the long term.
But Liberal Democrat MP Sarah Olney said: "Jeremy Hunt's speech is cold comfort for families and pensioners facing unbearable price rises."
Labour's shadow chancellor Rachel Reeves said that "13 years of Tory economic failure have left living standards and growth on the floor, crashed our economy, and driven up mortgages and bills".
"The Tories have no plan for now, and no plan for the future," she added.
It was the chancellor's first big economic speech since he took office in October, outside of the Autumn Statement and his speech to reverse most of former Prime Minister Liz Truss's mini-budget.
In his Autumn Statement last November, Mr Hunt revealed tax rises and spending cuts worth billions of pounds aimed at mending the nation's finances.
Many will see this latest speech as an attempt to respond to criticism that the government has no long-term plan for growth, in the face of the global economic shift.
On Thursday, new figures from the Society of Motor Manufacturers and Traders (SMMT) showed the number of new cars made in the UK has sunk to its lowest level for 66 years.
UK car production was further set back by the collapse into administration of Britishvolt last week.
The firm had planned to build a giant factory to make electric car batteries in Cambois, near Blyth in Northumberland, but the project ran out of money.
Car firms warn that the UK is lagging behind other countries, particularly on offering state aid to manufacturers.
The boss of the SMMT, Mike Hawes, conceded that the UK could be in the unenviable position of offering less support to crucial industries than before it left the EU.
Data out on the UK economy in recent weeks has painted a mixed picture.
Price rises in the UK slowed for a second month in a row in December, but the cost of food including milk, cheese and eggs kept inflation high.
Wages have grown at the fastest rate in more than 20 years, but are still failing to keep up with rising prices.
Figures on Tuesday showed government borrowing hit a new high in December, driven by the cost of supporting households with their energy bills and rising debt interest costs.
And on Wednesday, the independent Office for Budget Responsibility told the government that it had overestimated the prospects for medium-term growth and that it planned to downgrade its outlook, The Times reported.
The downgrade would leave Mr Hunt with less room to manoeuvre ahead of his Budget this March.
More on this story
UK car production collapses to lowest for 66 years

Warning that thousands of firms face collapse