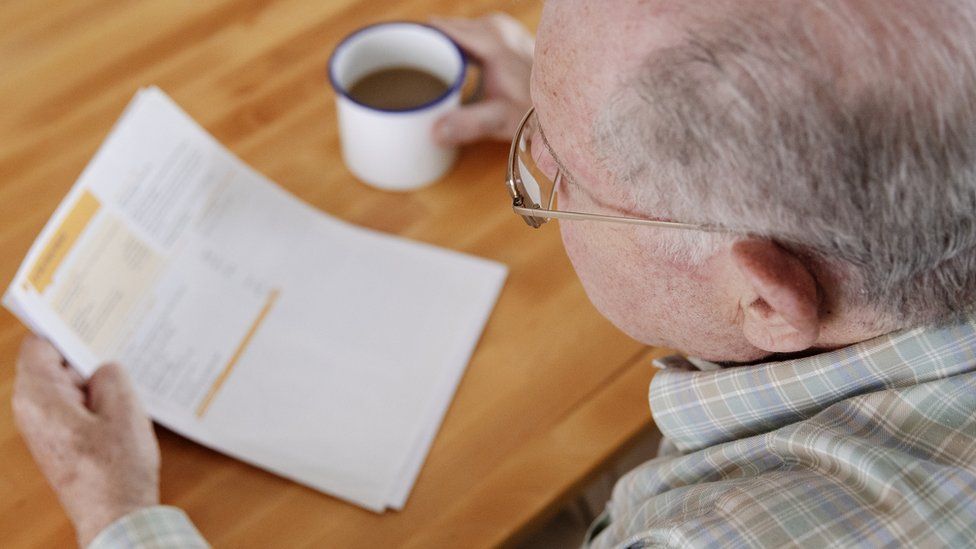 Discounted energy bills for millions of vulnerable people are being considered as a long-term option to tackle unaffordable prices.
Under so called social tariffs, certain groups of people on low incomes would be offered lower-cost deals.
Jonathan Brearley, boss of the energy regulator Ofgem, said they were a good option being discussed with ministers.
The regulator will also investigate suppliers forcibly switching people to prepayment meters.
It is warning firms it will take legal action if they are not taking proper due care of vulnerable customers.
On Sunday, the government said suppliers should stop forcing households onto prepayment meters.
Pressure has been mounting on energy suppliers to stop switching people who are struggling to pay their bills onto prepayment meters.
Citizens Advice estimates that 3.2 million people in Britain ran out of credit on their prepayment meter last year, the equivalent of one every 10 seconds.
On Sunday, Business Secretary Grant Shapps warned he would "name and shame" suppliers who were doing "nowhere near enough" for vulnerable customers.
In a speech at the Institute for Government later, Ofgem boss Jonathan Brearley will say he is "concerned" about the sharp growth in households being switched to prepayment meters, "sometimes without their even knowing about it".
"The numbers of forced installation of prepayment meters is extremely high. It is simply not acceptable that vulnerable customers are left in the dark and cold in winter."
What do I do if I can't afford to pay my debts?
Who can get the latest cost-of-living payments?
Mr Brearley will announce a review that will focus "specifically on self-disconnections, remote switching and forced installations and, the checks and balances companies have around any decision to put a customer on a prepayment meter".
"If we find that they have not taken due care in this process, we will take further legal action against them," he will say.
Ofgem is calling for suppliers to stop forced installations of prepayment meters unless all options have been exhausted, although the regulator does not have the legal power to completely ban these actions.


Why is this allowed and what can you do?
Before smart meters existed, energy firms would have to get a warrant to enter your home and physically install a prepayment meter
Now, smart meters enable energy firms to switch customers from direct debit payments to a prepayment meter system remotely
Ofgem rules state that energy suppliers must have effective checks and balances in place when switching the mode of a smart meter
The regulator advises customers with concerns to speak to their supplier. Under Ofgem rules they must offer payment plans you can afford and you can ask for emergency credit if you use a prepay meter and can't top up
Breathing Space, sometimes called the Debt Respite Scheme, is a free government scheme that could give you up to 60 days' space from creditors to set up a debt solution. Step Change debt charity can help you to apply
Citizens Advice offers this guide: Stop your energy supplier moving you to prepayment


In his speech. Mr Brearley will also say that cheaper social tariffs for vulnerable households should be considered as a long-term option for tackling unaffordable bills.
"We are calling for a serious assessment of a social tariff," Mr Brearley will say. "If it can be made to work, this could tackle the root cause of this issue and the distress that many customers are in this winter."
In theory, the cost of providing such a discount would either be paid for by suppliers – by increasing the bills of everyone else – or by the government through taxation.
If adopted, it would mark a significant shake-up in the way millions of households are charged for energy.
In other social tariff schemes, people qualify if they receive certain means-tested benefits.
For example, some people receive cheaper broadband deals. However, there has been some criticism of providers for not making customers aware of these tariffs, leading to very low take-up rates.
Social tariffs were also used in the energy sector before people were protected by a price cap – a limit on the price of each unit of energy charged to domestic customers.
Some energy companies bosses have signalled they would be open to social tariffs alongside a reformed price cap.
Bill Bullen, founder and chief executive of Utilita Energy, said however, that more schemes would not be beneficial.
"There are lots of schemes already delivering benefits. The questions is whether it's targeted enough or high enough," he told the BBC.
He said the Energy Bill Support Scheme (EBSS), which gave customers monthly payments towards their energy bills this winter, was a "phenomenal success".
"Frankly I don't think there'll be another benefit scheme delivered more quickly, more accurately at the scale the smart meter EBSS help has been delivered – I'd be surprised. It was phenomenal," he said.
"So we have the schemes in place, we just need to make them work better. For example, these prepay meter vouchers [which are not being delivered] – get yourself a smart meter, you'll get your payment straight away."
Ofgem has criticised Utilita for its systems of giving vouchers to struggling customers, which the company said was unfair.
The government set a cap on the unit price of gas and electricity for households, which means the typical household currently pays £2,500 a year. This will rise to £3,000 a year when the cap is reset in April.
However, the universal £400 discount, which is being paid in monthly instalments over this winter is not expected to be continued.
Cost-of-living payments have provided additional support for more vulnerable households, or those with higher energy costs, since the summer.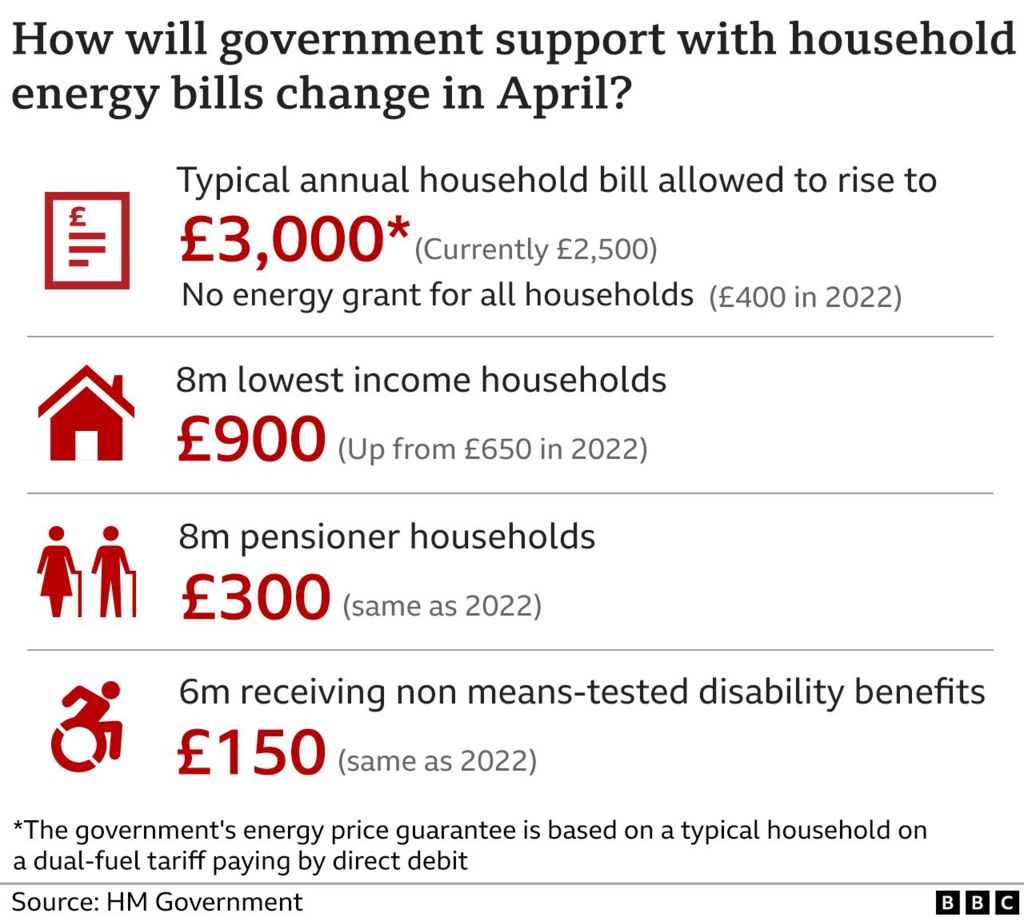 Although there have been forecasts of typical energy bills falling below the government guarantee later this year, the cost would still be double that of last winter.
Experts have also said there is little chance of energy prices dropping back to pre-Covid levels.
Earlier in January, a coalition of nearly 100 charities wrote to Chancellor Jeremy Hunt urging him to start the process of introducing a social tariff for April 2024 when government support is scheduled to end.
"While the government was able to offer unprecedented protection for households and businesses from high energy prices, many people in poverty and with higher energy needs – for example, those relying on medical equipment like dialysis – have still struggled with affording to adequately heat and power their homes," the letter said.
More on this story
What do I do if I can't afford to pay my debts?

Who can get the latest cost-of-living payments?

British Gas stops remote switching to prepaid meters

Winter weather: Keeping costs down when it's cold