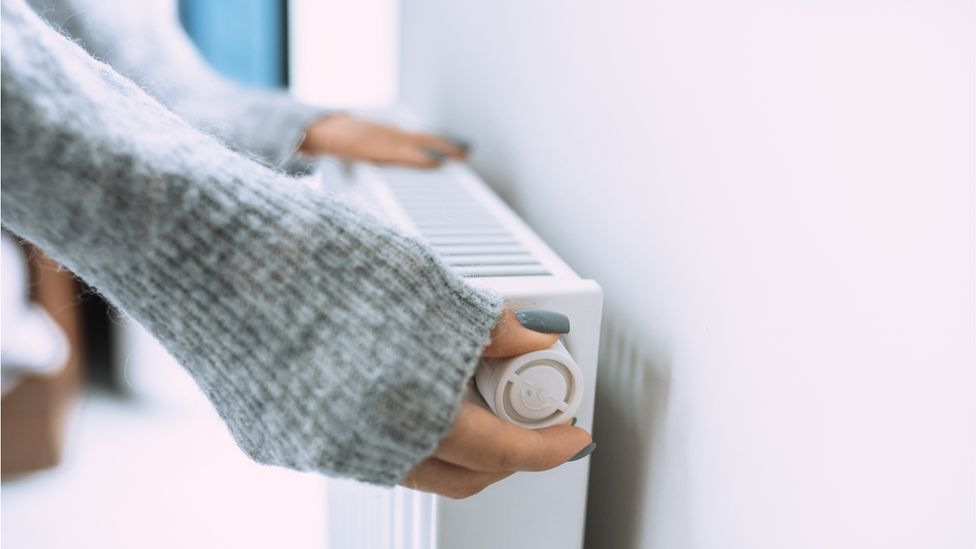 The business secretary has said the energy regulator allowed itself to have "the wool pulled over their eyes" over prepayment meters being force-fitted.
Grant Shapps accused Ofgem of taking the energy companies "at face value" instead of listening to customers.
Last week, the Times revealed an agency working for British Gas was breaking into vulnerable people's homes to fit meters that require advance payment.
Ofgem said it shared Mr Shapps' shock at that report.
Energy firms must apply to a court for a warrant to break into a customer's home and install a prepayment meter if an arrears has been built up.
But suppliers are required to have exhausted all other options before doing so, and should not use that as a solution for vulnerable customers, including elderly people and families with young children.
Mr Shapps said that he will give energy firms until Tuesday to report back on what action they will take, potentially including compensation, in response to complaints from any customers who have had prepayment meters wrongfully installed.
Energy bills: What can I do if I can't afford to pay?
Energy firms told to stop force-fitting prepayment meters
British Gas admits agents break into struggling customers' homes
He said that he was "appalled" that vulnerable customers had their home broken into "when there is a clear duty on suppliers to provide them with support".
He said: "I'm also concerned the regulator is too easily having the wool pulled over their eyes by taking at face value what energy companies are telling them.
"They need to also listen to customers to make sure this treatment of vulnerable consumers doesn't happen again."
Ofgem has already launched an investigation into British Gas and last week told all energy companies to suspend the forced installation of prepayment meters.
In response to Mr Shapps, the regulator said energy firms are legally required to submit "an honest representation of the facts" and it "required assessments to be signed off by their boards".
Ofgem said it would be an "extremely serious matter for any licensee to provide misleading or purposefully inaccurate information".
It said it will conduct further reviews of what energy firms have told the regulator and will cross-examine them "with direct reports from customers and wider stakeholders, and potentially those involved in delivery of services".
Labour shadow business secretary Ed Miliband said Mr Shapps "sat on his hands" and failed to take action over the issue.
"Now, even after the scandal at British Gas and the millions disconnected by the back door, he still won't adopt Labour's call for a total and ongoing ban on the forced installation of prepayment meters until there is wholesale reform of a discredited, rotten and callous system. "
It has also emerged that applications by energy firms for warrants to forcibly install pay-as-you-go meters in homes have been waved through the courts in huge numbers last year following a change of advice on how magistrates should consider such cases.
Previous guidelines required careful scrutiny of warrant applications.
But according to a document leaked to BBC News, magistrates in England and Wales were told that it was "irrational" to refuse such warrants and that rules requiring them to question the applications were "disproportionate".
One former magistrate, Robin Cantrill-Fenwick, told BBC Two's Newsnight it used to be the case that energy companies would come to court and magistrates could question them over the application.
"We could establish whether there might be young children in the premises or people who were clinically vulnerable. We could, and would sometimes, decline a warrant," he said.
But in 2019, a new online and telephone application system for magistrates came into force. That year, warrant applications reached 278,966 and 1,824 refusals were granted, according to the Ministry of Justice.
Last year, applications for warrants hit 367,140 and there were 56 refusals.
Mr Cantrill-Fenwick, who quit as a magistrate last August, said: "Over time the process changed. Rather than looking at individual applications, we would just get a list of addresses."
A spokesperson for the Judicial Office said: "Magistrates deal with cases based on the evidence and the relevant legislation. The only applications that are dealt with in bulk are ones that are uncontested.
"Individuals who wish to contest or challenge an application still have the opportunity to have their case considered by magistrates.
There are more than four million UK households on prepayment meters. Energy prices have been soaring, partly as Covid restrictions were lifted and economies re-opened but worsened when Russia invaded Ukraine which led to the disruption of supplies.
Higher energy costs for homes and businesses has pushed up inflation, piling pressure on struggling households.

Have you had your home broken into so a prepayment meter can be fitted? Share your experiences by emailing haveyoursay@bbc.co.uk.
Please include a contact number if you are willing to speak to a BBC journalist. You can also get in touch in the following ways:
WhatsApp: +44 7756 165803
Tweet: @BBC_HaveYourSay
Upload pictures or video
Please read our terms & conditions and privacy policy
If you are reading this page and can't see the form you will need to visit the mobile version of the BBC website to submit your question or comment or you can email us at HaveYourSay@bbc.co.uk. Please include your name, age and location with any submission.
More on this story
Courts waved through warrants to forcefit prepayment meters

What can I do if I can't pay my energy bill?

Magistrate quits over force-fitting meter warrants

Firms told to stop force-fitting prepayment meters