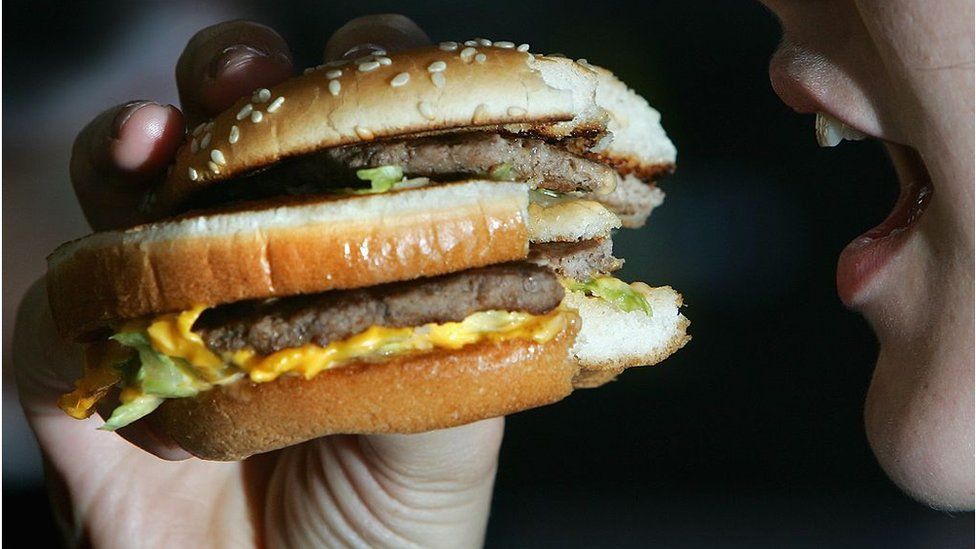 Fast food chain McDonald's is putting the price of five of its menu items up as cost of living pressures continue to squeeze struggling households.
It said higher food and energy costs mean it will put up its prices from Wednesday.
Last summer the fast food giant put up the price of a cheeseburger for the first time in more than 14 years.
Soaring inflation around the world hasn't dented McDonald's sales, which grew last year by more than 10%.
McDonald's said it was committed to "affordable prices".
"However, like many businesses, the impact of the increase in food and energy costs continues to affect our company and our franchisees."
McDonald's puts up price of cheeseburger
Why are prices rising so much?
How much are prices rising for you? Try our calculator
McDonald's said that franchisees set their own pricing, and the following prices are a guide:
Mayo Chicken from 99p to £1.19
Bacon Mayo Chicken from £1.59 to £1.79
Bacon Double Cheeseburger from £2.49 to £2.69
Triple Cheeseburger from £2.69 to £2.89
Medium Carbonated Drink from £1.39 to £1.49
McDonald's added that it was trialling meal deals at 120 outlets in the South East of England called "Saver Meals" – for example, a cheeseburger, a side order and a drink will cost £3.99.
It said the meal bundles were being trialled "to understand if this could be an additional way to offer value to our customers".
Prices in general have been rising rapidly around the world as food, fuel and energy costs soar.
Russia's war in Ukraine pushed energy prices higher, although crude oil and gas prices have been falling since last summer.
The pace of inflation in the UK was 10.1% in the year to January, down from 10.5% in December, and food price inflation is at a 45-year high.
So an item that cost a pound last January would be more than 10p more expensive this January, across the board.
UK inflation: Price rises slow but remain close to 40-year high
Wages are not rising as fast as prices, putting household budgets under pressure.
Firms have responded to rising costs by increasing prices.
Both Coca-Cola and PepsiCo, which dominate the global soft drinks market, pushed through multiple price rises in 2022.
Coca-Cola put up prices by 11% around the world, while Pepsi's prices rose 14%.
On Tuesday Coca-Cola said it would raise the price of its fizzy drinks again this year.
McDonald's too has raised prices before today.
Last summer, it put up the price of cheeseburgers, along with items including breakfast meals, large coffees, McNugget share boxes and upgrades from medium to large meals.
In 2022 its sales grew 10.9% after price rises and as more people came to its outlets.
Related Topics
Fast food
Inflation
Cost of living
McDonald's
More on this story
McDonald's puts up price of cheeseburger