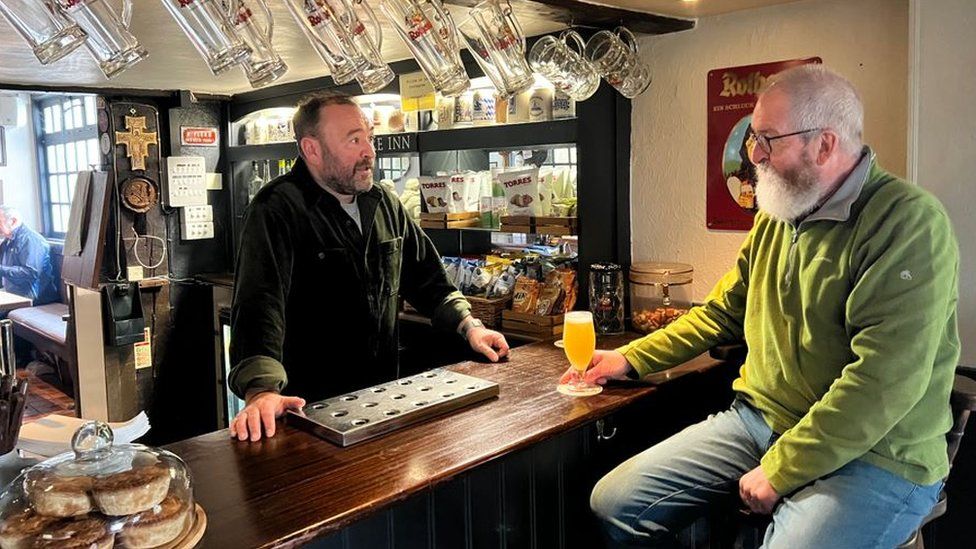 In the kitchen at the Ypres Castle Inn in Rye, tables and chairs are stacked where a chef used to cook meals.
Jeff Bell is one of many landlords turning away from serving food to save money on energy, wages and ingredients.
Family favourites like fish and chips, steaks and roast dinners were once hailed as money-makers for pubs.
But industry data suggests drinks-only pubs, which are owned by a chain, had stronger sales than gastropubs for every month of 2022.
Hospitality as a whole is grappling with soaring prices and staff shortages. An average of 32 pubs closed per month last year in England and Wales, according to government figures.
A kitchen used only for preparing cheeseboards, scotch eggs and charcuterie platters means Mr Bell can keep a lid on expenses.
It looks to be paying off – profits for 2022 at his independent pub were "close to the best years we had before the pandemic", he said. December was his best month of sales on record, he added.
The restaurants shrinking their menus to survive
Regulars Bob and Jane have just finished a platter of cold cuts and open a packet of crisps.
"They do really, really good bar snacks here, " she said.
"There are plenty of places we can get a meal, we know we can't here, and we accommodate that," said Bob.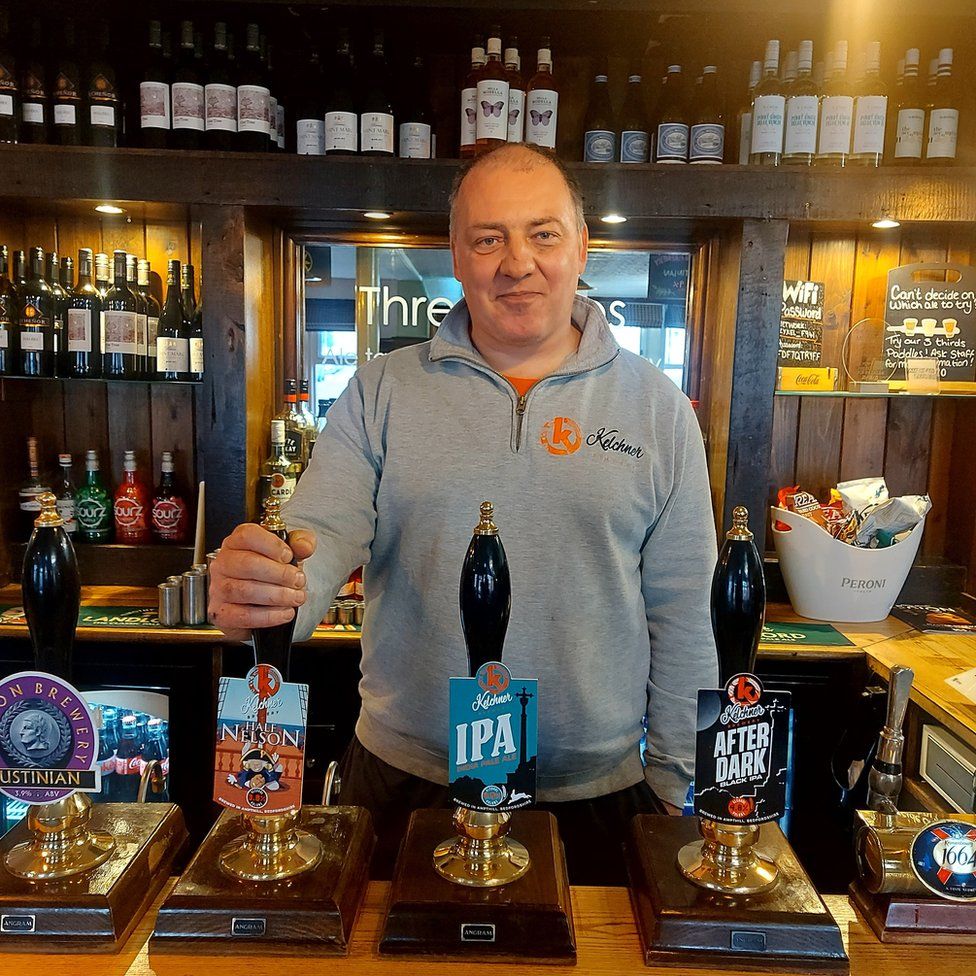 Chris Parry, who runs the drinks-led pub The Three Cups in Bedford bought the lease for his site from brewery company Greene King in 2021, at the end of the Covid lockdowns.
He has to buy some keg beers and ciders, and mixers off from Greene King well as pay rent.
He said while he once needed to sell £700 of food per week to break even, that figure has ballooned to around £2,500 – so he got creative.
He allows punters to order from local restaurants and eat their meals at The Three Cups with one of his brews instead.
"Ten years ago it was food, food, food – that was how we were told to make money. Now for smaller pubs it's just not worth it," he said.
If no one comes we close early, says pub
Back at the Ypres Castle Inn, Mr Bell said pub managers who are tied to buying alcohol from the big pub landlord companies had often switched focus to full menus as a way of having more control over their profit margins – but now the cost of that commitment has soared.
"It was expensive then. It would be utterly unaffordable now," he said.
Mr Parry is able to sell some of the beer from his other business, Kelchner Brewery.
Behind the bar, Zoe Capsey says the trend towards craft beer and local brands has allowed the pub to attract punters.
"Having a lot of craft beers on tap is massive now. People want pale ales and all that stuff that wasn't that popular back then, when it would be groups of old men all drinking the same pints."
Data for the industry, compiled by CGA, showed that pub revenues were back above 2019 levels, but the gains were being eaten up by soaring inflation.
Drinks-only pubs, where food might be limited to crisps or maybe a pork pie, had sales growth that outstripped those of food-led gastropubs for every month of 2022 in the 'managed' sub-sector where pub companies own and run the site.
Data from the CGA for the last three months of 2022, found nearly nine in ten pub closures occurred in the independent sector.
It said this indicated that even if pub managers have control over their kitchens and can shop around to bargain on wholesale drink prices, independents like the Ypres Castle Inn may be outliers going against a worrying trend.
Higher energy costs, food prices and a difficulty finding and retaining staff contributed to the closures.
Nick MacKenzie, boss of Greene King, which owns around 2,700 pubs, restaurants and hotels said it was "inevitable" that menu prices will continue to rise this year, if food inflation continues at its current level.
He told BBC Radio 5Live's Wake Up to Money programme he understood why some smaller operators may be switching to being drinks-led.
"Particularly when you see food price inflation being what it is now," but his company won't be turning away from a full menu offering.
More on this story
If no one comes we close early, says pub

'It was a very difficult decision to let staff go'

'Oldest pub' shuts as licensee faces administration

Pubs warning: 'My energy bill tripled to £35,000'