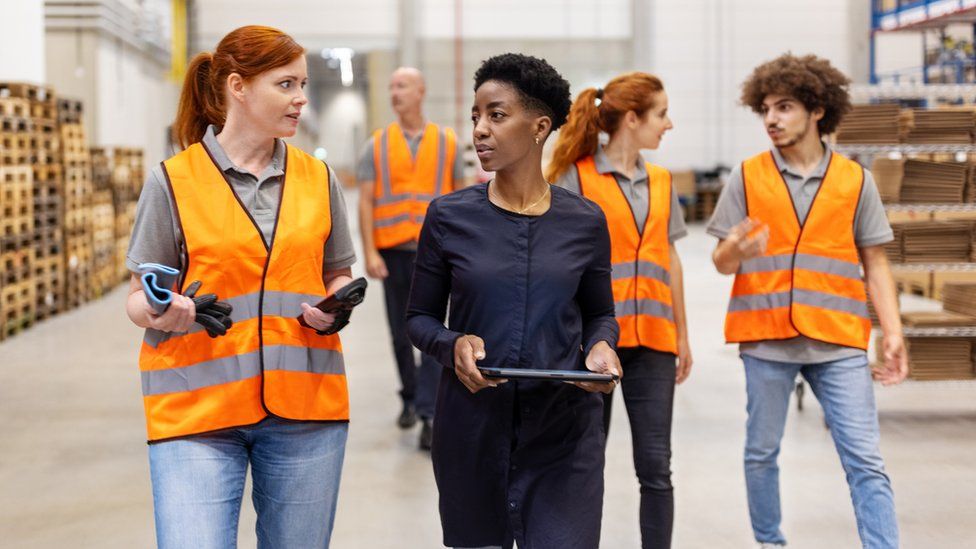 Wages have grown at the fastest rate in more than 20 years, but are still failing to keep up with rising prices.
Regular pay, which excludes bonuses, rose at an annual pace of 6.4% between September and November, official figures show.
It marks the fastest growth since 2001, excluding the pandemic, when people got big rises after returning to work from furlough.
However, when adjusted for rising prices, wages fell by 2.6%.
The cost of living is currently rising at its fastest rate in almost 40 years, largely due to the war in Ukraine.
Energy and food prices have shot upwards, leaving many people struggling to pay their bills. Inflation, the rate at which prices rise, is currently at 10.7%.
"The real value of people's pay continues to fall, with prices still rising faster than earnings," said Darren Morgan, director of economic statistics at the Office for National Statistics (ONS).
"This remains amongst the fastest drops in regular earnings since records began."
The gap between wage growth in the public and private sector also remains near a record high, with private sector wage growth of 7.2% more than double that of the 3.3% increase in the public sector.
Five tips for asking for a pay rise from people in the know
UK economy beats expectations with November growth
Outside the pandemic, the rise in private sector pay is the largest growth rate on record.
The gap between the cost of living and wages has led to thousands of workers in both the private and public sector striking over pay and working conditions.
Strikes have disrupted everything from train services to postal deliveries and hospital care and more industrial action is set to take place in the coming weeks.
In total, 467,000 working days lost were lost due to strikes in November 2022 – the highest number in more than 10 years.
On Wednesday and Thursday, member of the Royal College of Nurses (RCN) will strike in England, while some ambulance staff in England and Wales plan to walk out on 23 January.
The strikes taking place in January
Despite fears the UK economy is stagnating, the employment rate has remained largely unchanged, while the unemployment rate has edged up marginally.
Prime Minister Rishi Sunak has pledged to halve inflation this year, something many forecasters have predicted will happen as the cost of energy falls.
Chancellor Jeremy Hunt, said the UK labour market remained "resilient".
"The single best way to help people's wages go further is to stick to our plan to halve inflation this year.
"We must not do anything that risks permanently embedding high prices into our economy, which will only prolong the pain for everyone."
But Jonathan Ashworth, Labour's shadow work and pensions secretary, said the jobs figures showed the government was "totally bereft of ideas when it comes to tackling the cost of living crisis, growing the economy and supporting people into work".
"Real wages are plummeting, almost two and a half million people are out of work because of sickness and far too many people – especially the over 50s – aren't getting the support they need to either stay in work or to go back to work," he said.
Ashley Webb, UK economist for Capital Economics, said the rise in wages would "only add further weight" to the case for the Bank of England to raise interest rates again, despite pay not rising in line with inflation.
Interest rates have been steadily put up by the Bank of England in a bid to curb inflation. Raising interest rates helps to control inflation by making it more expensive to borrow money. This encourages people to borrow and spend less, and save more.
Mr Webb said the fact that the jobs market "remained tight and wage growth remained strong", would "only increase the Bank of England's fears that inflation, despite falling, is still persistent".
The UK's latest inflation figures are due to be released on Wednesday.
More on this story
Five tips for asking for a pay rise

UK economy beats expectations with November growth

Private workers' pay growth outpaces public sector

The strikes taking place in January