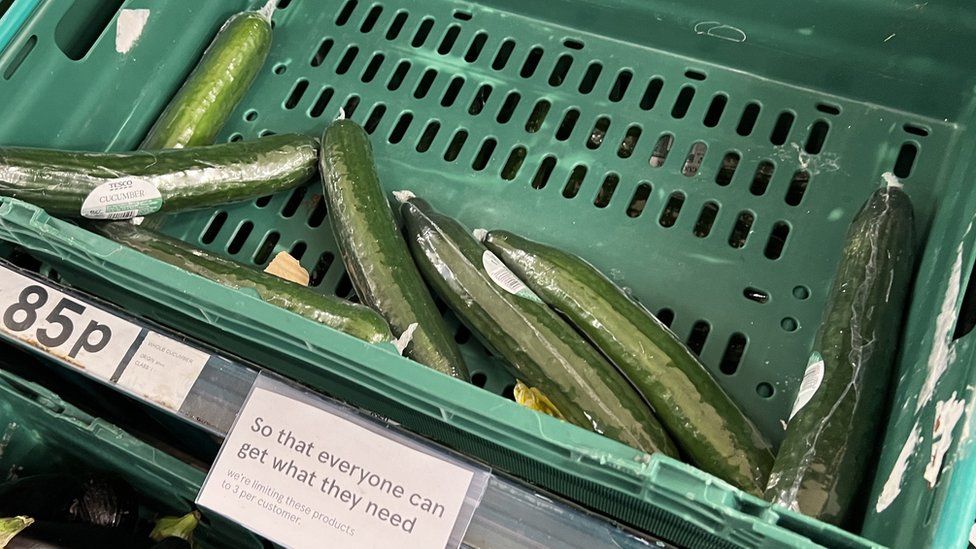 A shortage of some fruit and vegetables could last until May, according to producers in one of the UK's biggest growing regions.
The Lea Valley Growers Association said major UK growers were delaying planting some crops due to high energy costs.
Major UK supermarkets have been placing limits on fruit and vegetable sales after shortages.
The government and industry have blamed bad weather in Spain and North Africa for the squeeze.
The association has around 80 members across an area that includes Greater London, Hertfordshire and Essex.
Growers there produce around three quarters of the UK cucumber and pepper crops, and a large number of aubergines and tomatoes.
Why is there a shortage of tomatoes in the UK?
Tesco and Aldi limit tomatoes and some vegetables
The association said that while weather conditions in Spain and Morocco are the main reason behind the current shortages, the situation is being made worse by UK producers delaying planting crops this season.
They have been put off by high energy costs for greenhouses, and low prices offered by supermarkets for their produce.
Environment Secretary Therese Coffey said on Thursday that shortages could last for a month, but UK growers think it could be for longer.
"The majority of tomatoes, peppers and aubergines are not going to be around in big volumes until May, so it's going to be longer than a few weeks", said Lee Stiles, secretary of the Lea Valley Growers Association (LVGA).
In the winter months, the UK imports around 95% of its tomatoes, according to figures from the British Retail Consortium.
But Mr Stiles said the association, which also imports produce, is only getting a quarter of the produce it has ordered from Spain and Morocco.
"Some Lea Valley pack houses have closed for a few days due to lack of deliveries, and others are losing workers as they could only offer three hours work a day instead of full shifts over the last few weeks," he said.
"It's too late for UK growers to step in and try and make up some of the shortfall," he added.
"If we planted tomatoes, peppers and aubergines in December, we would be picking now.
"And if we planted cucumbers in the first week of January like we normally do, we'd be picking on Valentines Day [14 February] as usual", he added.
Mr Stiles said the prices set by supermarkets for UK produce mean it is hard for growers to make a living, particularly during a period of very high energy bills.
Many producers are growing less or have delayed planting, and 10% of members have left the sector altogether, he said.
"It's a simple fact of economics between the growers and the supermarkets," he said.
"Half of our growers didn't grow last year, and half of our growers are not growing this year, and that's because they couldn't secure an increased price from the supermarkets to cover the increased cost of energy and fertiliser, and inputs that they needed in order to make a profit and make a living on the produce grown."
As Spanish and Moroccan produce starts increasing again, growers in those countries are more likely to sell to buyers closer to home, he added.
"You've got more fuel costs on a four day trip to the UK and there are additional fees to get it through the border," he said, adding that international growers are more likely to get a higher price for their goods in other countries.
"They can simply get a better price in Europe for less hassle," he said. "The UK is such a small market for Spanish and Moroccan produce. Who are they going to look after first?"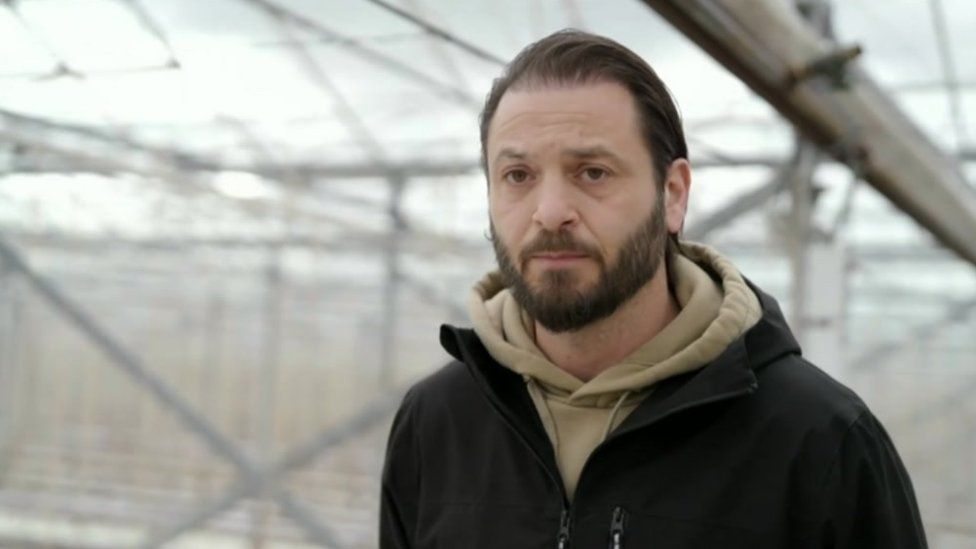 "I've only survived because of savings"
Tony Montalbano runs his cucumber growing company, Green Acre Salads, from Roydon in Essex, and is a member of the Lea Valley Growers Association. He is a small grower and started his business seven years ago.
Tony reduced his crop this season and delayed planting because of the high cost of energy, and the prices offered by UK customers.
"I normally do three crops in a season starting in January, and then harvest around the middle of February. I've had to remove the first crop, and start with my second and third crop to try and save costs over the winter period," he said.
The prices growers get for produce in the UK compared to Europe are unsustainable, he added.
"I looked at the prices I would get for my cucumbers and thought to myself, 'I can't see us making it this year'."
The British Retail Consortium (BRC), which represents supermarkets, said retailers were working hard to increase supplies
"While disruption is expected to last a few weeks, supermarkets are adept at managing supply chain issues and are working with farmers to ensure that customers are able to access a wide range of fresh produce", said Andrew Opie, director of food and sustainability at the BRC.
"Retailers have long established relationships with the farmers in the UK and beyond, and they understand they need to pay a sustainable price for these goods," he added.
"During winter, retailers source much of their summer produce, like tomatoes and lettuces, from countries like Spain and Morocco, where the good weather allows them to grow all year round without the added cost of heating greenhouses.
"This, in turn, allows supermarkets to offer their customers the best value for money at a time when the cost of living has risen sharply."
Additional reporting by Tom Espiner
Related Topics
Vegetables
Fruit
Retailing
Inflation
Supermarkets
Shopping
Food
More on this story
Why is there a shortage of tomatoes in the UK?

Tesco and Aldi limit tomatoes and some vegetables

Asda and Morrisons limit sales of fruit and vegetables