Baljit Sethi cannot understand why it is taking so long for the Post Office to pay him compensation.
"It doesn't seem like they're interested in doing anything," he says.
He is one of thousands of sub-postmasters who lost everything, after the introduction of a faulty IT system made it appear as though money was going missing.
The official inquiry into the scandal is looking into the compensation process for a third time on Thursday.
The inquiry will hear from government, Post Office and legal representatives, after its chairman Sir Wyn Williams said in September he was "disappointed with the apparent lack of substantial progress to date".
The Post Office, which administers the compensation schemes, said it recognised the "importance of ensuring that postmasters receive timely and fair compensation for the failings associated with the Horizon IT system" and pointed to the numbers of people who had already received payments.
The government says "significant progress" has already been made on compensation and has announced details of an additional compensation scheme that will begin work next year.
But solicitors for sub-postmasters making claims say the process is too slow.
Mr Sethi agrees that three years after the High Court declared the Post Office's Horizon IT system was riddled with "bugs, errors and defects", it is high time that people like him are properly compensated.
"We haven't had a single penny," he says.
"We've sent them so many emails, and after four or five months they reply: 'Please have patience, Mr Sethi'."
"I mean, how long can I have patience for?" he says.
Post Office scandal: 'I just forgot how to laugh'
Horizon contract 'fatally flawed' – ex-minister
Why were hundreds of sub-postmasters prosecuted?
Over 20 years Mr Sethi and his wife ran two post offices near Romford in east London, investing in the businesses and working long hours.
He noticed the new IT system was causing shortfalls in the accounts at one of his two branches. He alerted the Post Office, but nothing was done. After ongoing erratic results from the Horizon accounting software, he lost his businesses, became bankrupt, and his reputation in the local community was destroyed. He ended up working as a low-paid night security guard, struggling to make ends meet.
Other sub-postmasters were prosecuted, some spent time in prison, or had to pay back tens of thousands of pounds that they were wrongly accused of stealing.
A Post Office spokesperson said: "We are sincerely sorry for the impact of the Horizon scandal on the lives of victims and their families."
The Post Office, which is state-owned, runs two compensation schemes. One, the Historical Shortfall Scheme (HSS), is for people like Mr Sethi, former postmasters who had to cover discrepancies in their businesses' accounts with their own funds, but who were not prosecuted.
A Post Office spokesperson said there had been over 2,300 eligible applications for the HSS.
"Over 70% of applications have accepted an offer and received payment; and 95% of applicants should receive an offer by the end of this year. The scheme has also been extended to anyone who wants to submit a late application," he said.
The Post Office said if outstanding applications had not received an offer, it was "usually in light of a case-specific complexity".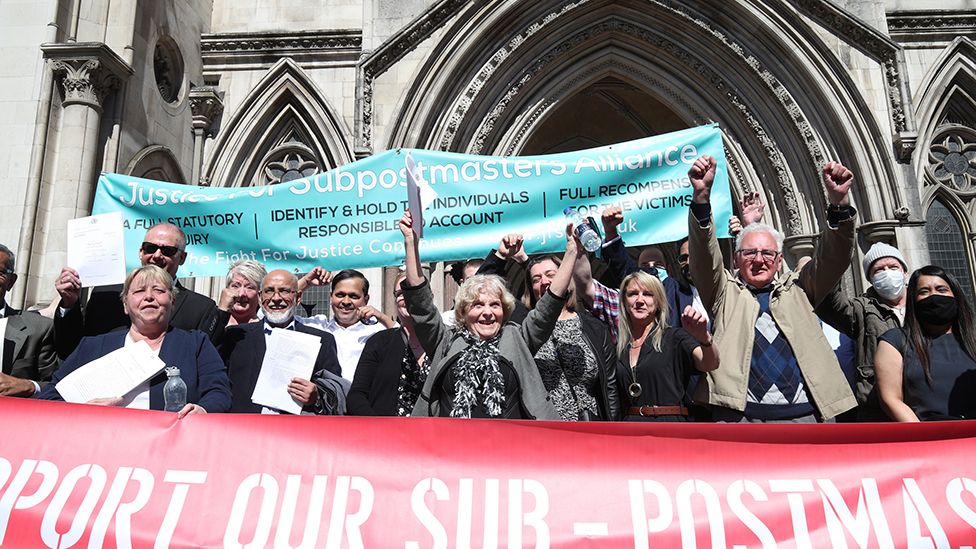 A second scheme, the Overturned Historical Convictions (OHC) scheme, provides payments to those who were prosecuted. So far £11.3m has been paid in compensation to 77 of the 83 individuals whose convictions had been overturned, although much of that is in interim payments, and only two cases have been fully settled.
The Post Office said it was "making good progress with many more claims".
On Wednesday the government outlined the details of a third scheme, to be overseen by the Department for Business Energy and Industrial Strategy (BEIS).
The new scheme will compensate the 555 former sub-postmasters who brought the initial legal action, known as the Group Litigation Order (GLO), that culminated in 2019 with a settlement at the High Court, making clear for the first time the scale of the miscarriage of justice that had taken place.
Those 555 sub-postmasters did receive a share of the £57m original settlement, but that was mostly absorbed by legal fees and for legal reasons the GLO group are not eligible for either of the two Post Office-run compensation schemes.
The new scheme would "ensure that these trailblazing postmasters, who did so much to uncover this injustice, receive the compensation they deserve", Business Secretary Grant Shapps said.
But solicitors representing the former postmasters said their clients were "justifiably frustrated" at the delays to authorising settlements.
Hudgell Solicitors, in a submission ahead of Thursday's inquiry hearing, highlighted the low initial offers that some claimants were receiving, which were increased three-fold or more when challenged. The delays in the process put "great pressure" on claimants in financial hardship to accept the initial offer, the firm said.
Howe and Co accused BEIS of "inertia", only making fast progress with the new compensation scheme in the build-up to a hearing at the inquiry. The HSS scheme was "exceptionally slow" the firm said.
That has certainly been Mr Sethi's experience.
He made his initial application in February 2020. Since then he has answered hundreds of questions, but still received no substantial response.
Mr Sethi's son Adeep is doing his best to help his parents to keep battling through what he says is a very opaque process.
"These people are in their 70s and 80s, they're sick and tired of fighting," he says. "They don't want the spectre of the Post Office haunting them any further."
More on this story
Post Office scandal: 'I just forgot how to laugh'

Horizon contract 'fatally flawed' – ex-minister

Why were hundreds of sub-postmasters prosecuted?