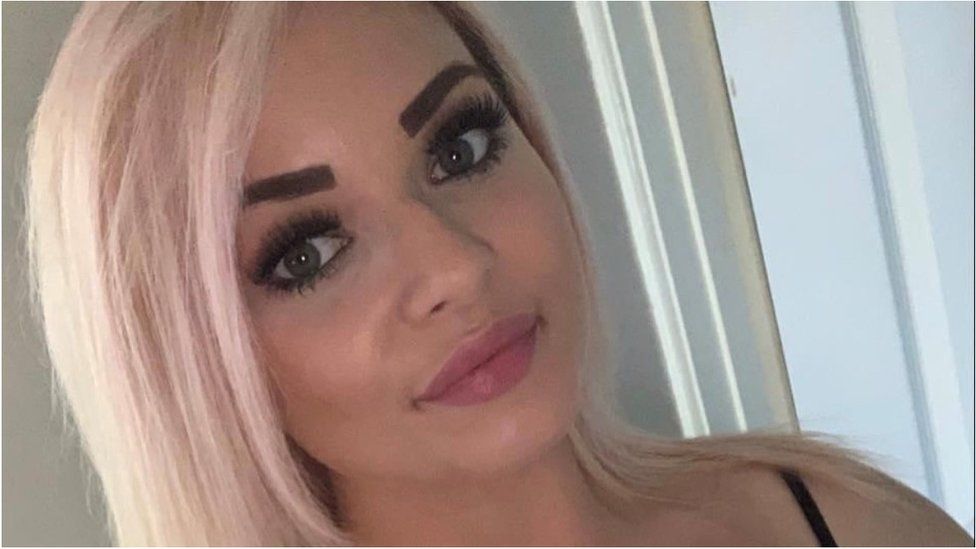 Young, in good jobs and having saved hard for five years to raise a deposit, Kathryn Yabsley and her husband David were all set up to buy their first home.
Last summer, the couple were looking at the prospect of an affordable mortgage and perhaps even getting into their new place by Christmas.
Then mortgage rates soared. Now, they have been forced to rethink their plans.
"We had that excitement and thrill. So to just be shot down, I was in bits and my husband was disappointed too. It burst our bubble," said 29-year-old Mrs Yabsley, an NHS therapy assistant from Pembrokeshire.
"We're holding off to see if the rates go down and we're going to rent instead."
Mortgage repayments would have been £300 more a month than their initial, in-principle, deal had suggested. With all the costs of bringing up a little boy, they realised every penny of their wages would be spent on bills.
"I don't want to just survive, I want to live as well," she said.
They are far from alone in their wait-and-see approach. On Friday, the Halifax – part of Lloyds Banking Group, the UK's biggest mortgage lender – said it expected buyers and sellers to "remain cautious" over the coming year.
House prices would drop as a result, the Halifax said, by as much as 8% this year. While that may be good news for first-time buyers like Mrs Yabsley, it would need to go hand-in-hand with falling mortgage rates to make their plans affordable again.
The cost of a new, fixed-rate mortgage has been going up for a year, as lenders predicted that the Bank of England would increase its benchmark Bank rate. That rise was turbo-boosted by the mini-budget when Liz Truss was prime minister.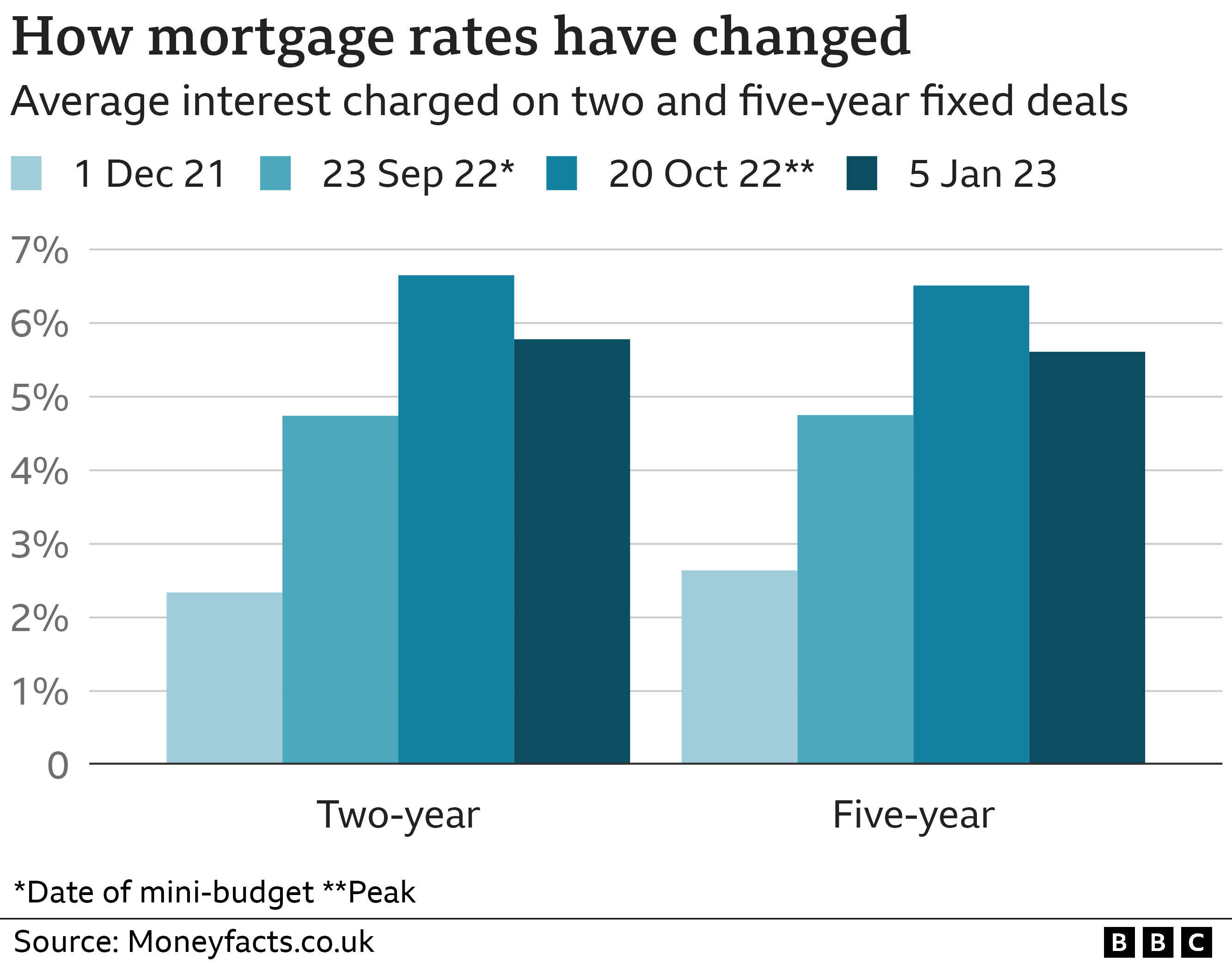 The plan in that budget, which promised billions of pounds of tax cuts without explaining how they would be paid for, led to turmoil on the markets, as well as a sudden withdrawal and re-pricing of mortgages.
As those proposals were dampened, then reversed, mortgage rates have started to fall again. The interest rate for a typical, new two-year fixed-rate home loan peaked at 6.65% in October, but has now dropped to 5.78%. Five-year deals, which had also topped 6%, now typically have a rate of 5.61%.
"Thankfully, mortgage rates are slowly coming down with large expectations for further falls in the upcoming months. However, both buyers and remortgage customers may put their plans on hold for the time being as they struggle with the cost of living," said Rachel Springall, from financial information service Moneyfacts, which compiled the figures.
What happens if I can't afford to pay my mortgage?
What is happening to house prices?
In a nutshell, that has been the problem for many potential buyers and existing homeowners. Even though fixed mortgage rates might be dropping, they are still higher than many people would have expected and budgeted for, and certainly more expensive than they have been accustomed to in the past decade. At the same time, their finances are stretched by rising energy and food bills.
As many as two million homeowners will have a fixed-rate deal that expires this year, and face a new deal that costs more in repayments each month. Those on variable rates are likely to pay more too, because the Bank rate is expected to climb further in the near future.
So, all will hope that mortgage rates do fall as the year goes on, and many are delaying any decision as a result. That has already been recorded in Bank of England data about falling mortgage approvals, and falling interest from buyers leading to lower house prices.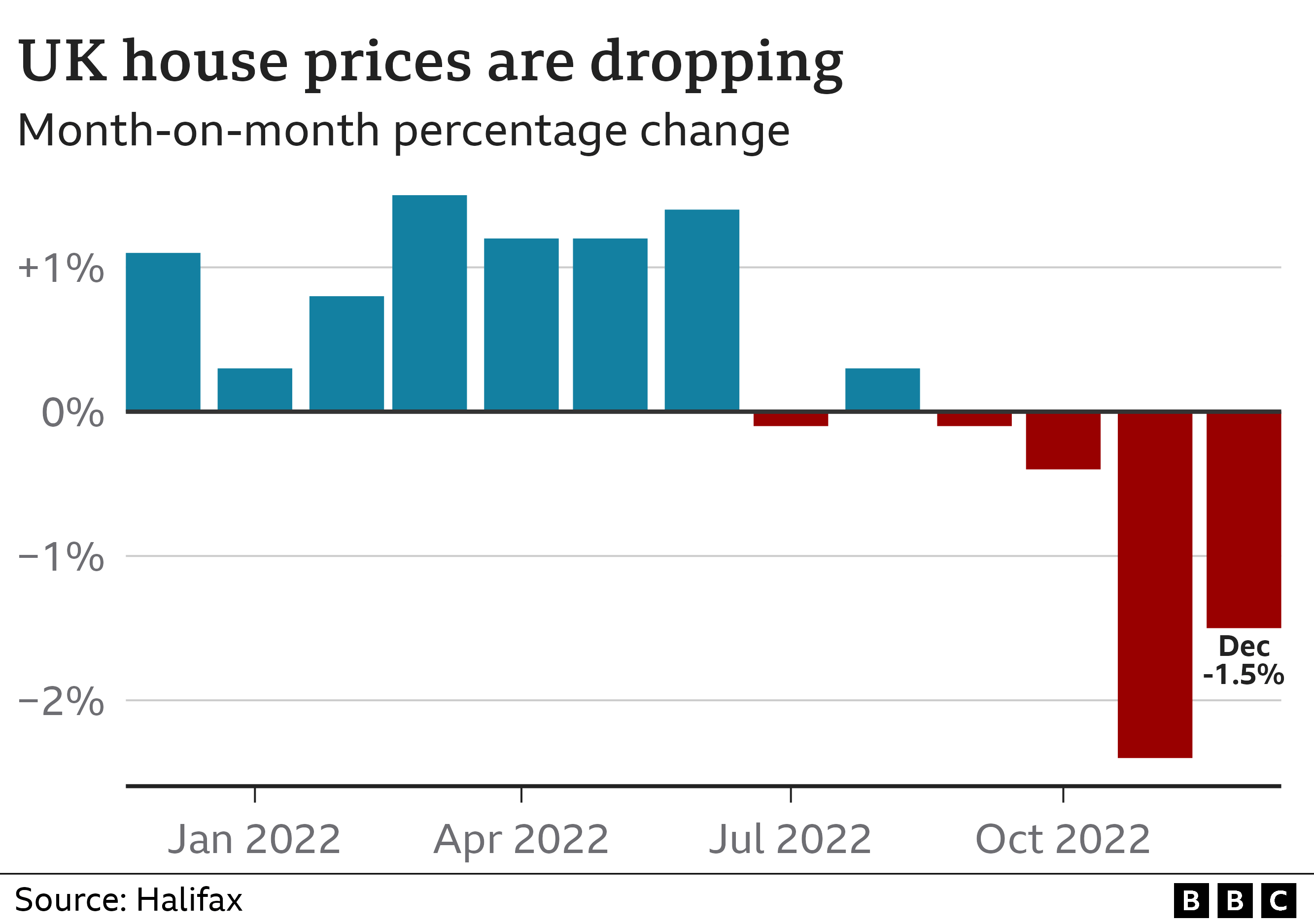 Mortgage brokers – who search the market for the best deals – are somewhat united in their view that the picture will improve.
"We expect that rates will continue to decrease and that remortgage and purchase activity will increase over the coming months," said Jed Newton, director at Trinity Financial, noting that many clients have delayed mortgage applications.
David Hollingworth, from London and Country Mortgages, said that better deals were already available.
"Calmer funding conditions mean that lenders have been able to cut their fixed-rate deals and five-year fixed rates are now available below 4.5% as a result," he said.
"We could see further improvements as competition between lenders heats up. In a slower market, [mortgage providers] will be keen to attract greater volume and competition is likely to benefit borrowers looking for a new deal."
He suggested there were some pitfalls with a wait-and-see approach, as variable and tracker deals – which may appear cheap now – were likely to get more expensive.
Some homeowners might also be considering extending their mortgage term to cope with the approaching payment shock.
"That comes at a cost, as it can push up the overall interest charge substantially," he said.
As for Mrs Yabsley, the prospect of owning their own home must remain wishful thinking for a while yet.
"We have accepted it, but if I could win the lottery tomorrow, I would buy myself a house," she said.
More on this story
What happens if I can't afford to pay my mortgage?

Mortgage approvals sink to lowest level in two years

House prices drop for fourth month in a row

What is happening to house prices?