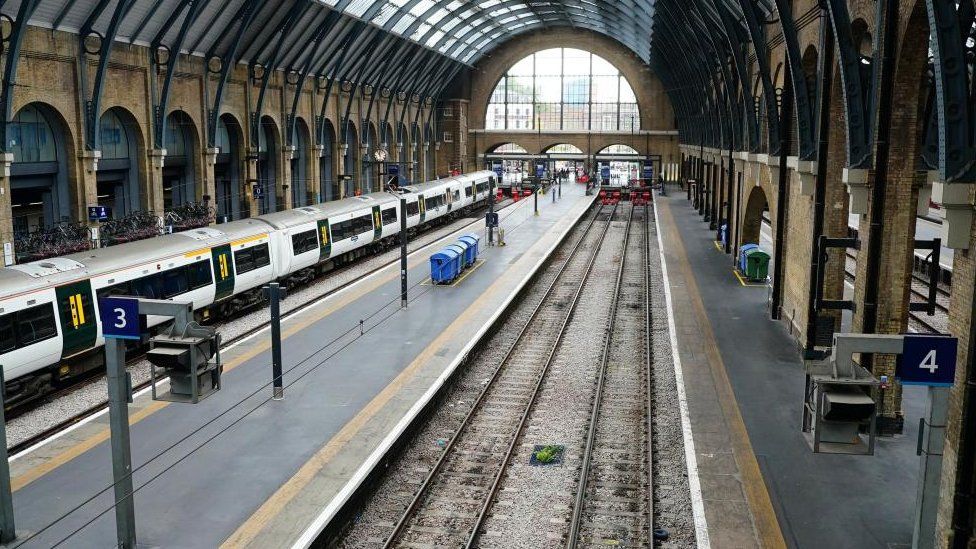 The boss of the biggest rail workers' union has called on the prime minister to meet him in an attempt to resolve the long-running strike action.
Rail workers in Britain have been locked in a dispute over pay, jobs and working conditions since the summer.
In a letter to Rishi Sunak, the RMT union's general secretary, Mick Lynch, said talks between the two men was now the best way forward.
The next round of strikes is due to start next week.
Passengers have been warned only to travel by train if absolutely necessary during the two 48-hour strikes on Tuesday and Friday. There will be no trains in some places.
The action is being staged by RMT members at Network Rail and 14 train companies – alongside other rail workers in the TSSA and Unite unions.
When are the next train strikes?
The strikes taking place in December
Passengers warned not to travel by train next week
The RMT is involved in two sets of talks – one with Network Rail and one with the train operating companies, represented by the Rail Delivery Group.
Mr Lynch said that from press reports, Transport Secretary Mark Harper's appearance at the Transport Committee this week and from what he has been directly told by the Rail Delivery Group's negotiators, it was clear that Downing Street is "directing the mandate for the rail companies and has torpedoed the talks".
In his letter, he told Mr Sunak: "I now believe that a meeting with yourself represents the best prospect of any renewed progress.
"We have a duty to explore every possible option for settling this dispute and I'm willing to do my part. I hope you will agree to meet me."
The RMT has accused the government of disrupting the resolution process by adding the extension of Driver Only Operation – meaning drivers would operate train doors in more places – into the offer from the Rail Delivery Group (RDG), which was swiftly rejected.
The Rail Delivery Group has insisted that Driver Only Operation does not mean staff will be removed from trains.
But the Department of Transport insists that the inclusion of driver only operated doors were a part of the pay deal from the start of negotiations and described them as "essential to fund pay fund offers and modernise the railways".
In its offer to the union, it said that it would allow staff on board to focus on other safety issues, as well as looking after customers or selling tickets.
It has also disputed the union's claim that it would compromise passenger safety, with these types of services already running for almost 40 years.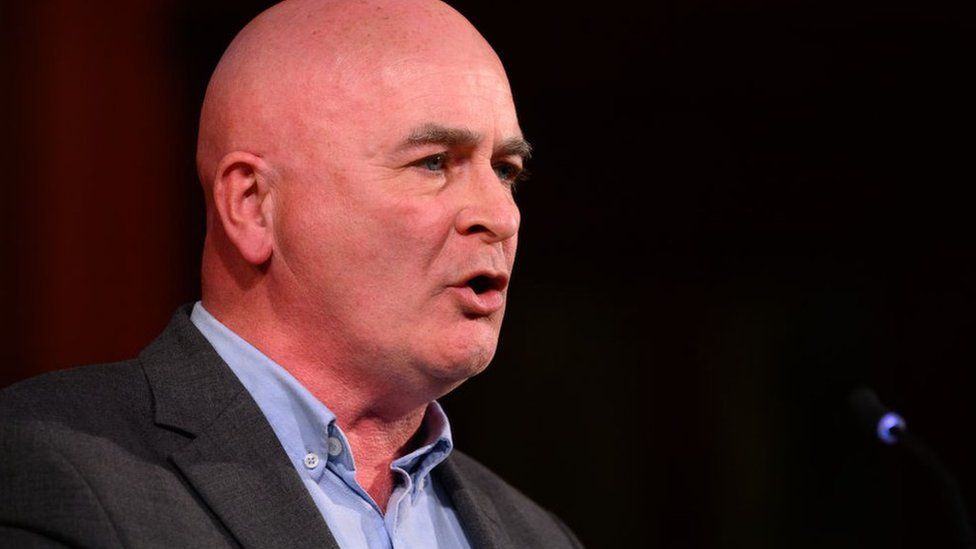 Speaking in front of a Commons Committee earlier this week, the transport secretary was asked repeatedly if reports the Treasury or Number 10 had inserted the change around these types of services into the RDG's offer, were true.
He did not directly answer, saying reform was necessary to drive the savings but he was "not going to provide a running commentary".
A spokesman for the Department for Transport said then that: "It's incredibly disappointing that, despite a new and improved deal offering job security and a fair pay rise, the RMT continues to hold Christmas hostage with more damaging strikes."
He added: "The government has played its part by facilitating a fair and decent offer and the RMT and its members should vote this deal through and end this harmful disruption."
The RMT has rejected the RDG offer which included a 4% pay rise both this year and next. It has decided to put Network Rail's offer, which includes a 5% pay rise this year and a 4% rise next year, to its members in an electronic referendum, but has called for it to be rejected.
Mr Lynch noted RMT has resolved disputes with rail operators in Scotland and Wales.
"Where the Scottish and Welsh governments have had responsibility for mandates, pay settlements for 2022 have been agreed and neither of these settlements have been conditional on cutting staffing, and eroding safety, security and accessibility," he added.
The rail industry is not the only sector to face disruption, as demands grow for better working conditions and pay increases in line with rising prices.
But it is under pressure to save money after the pandemic left a hole in its finances, and bosses say reforms are needed to modernise the railway and make pay rises affordable.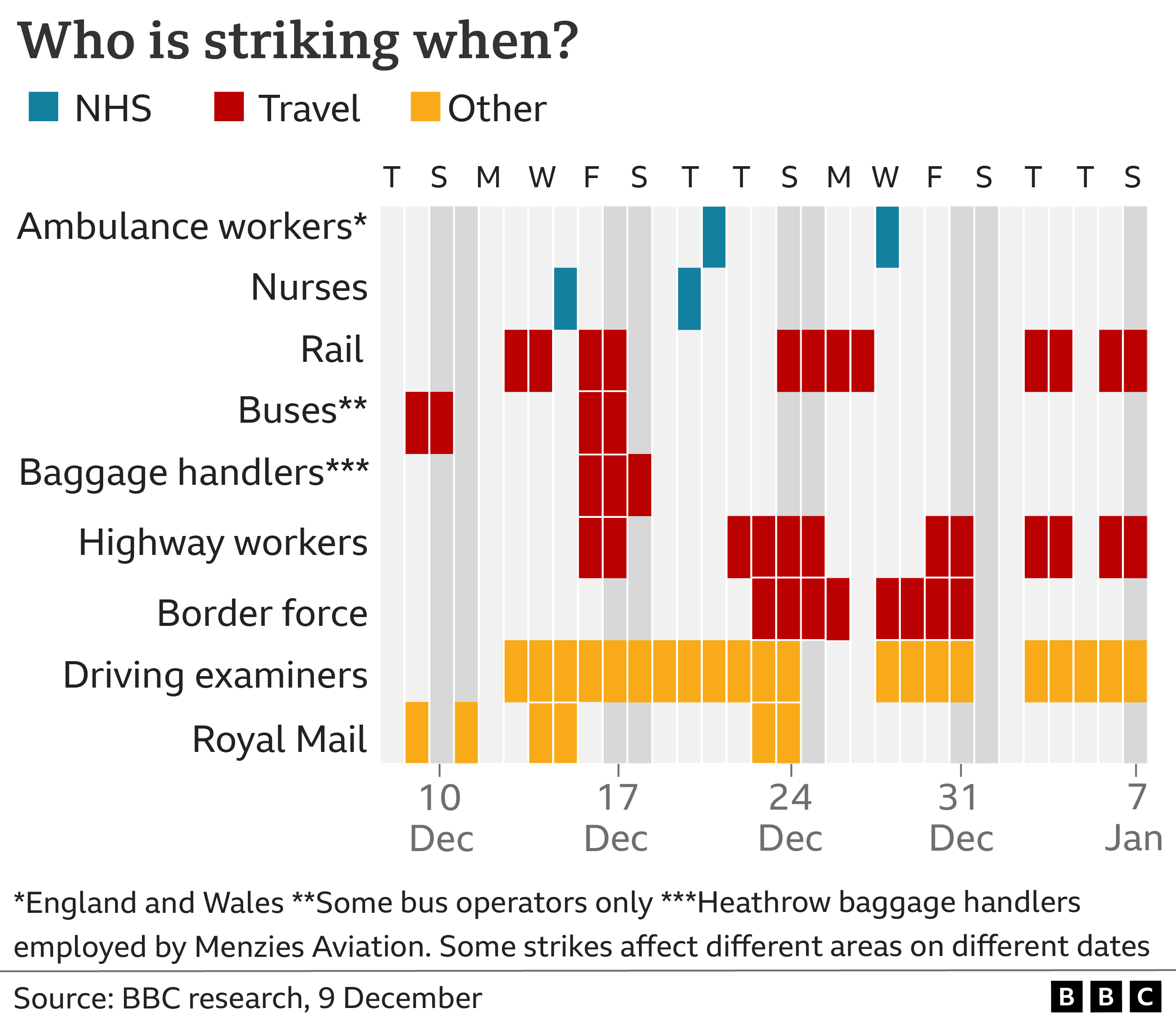 More on this story
When are the next train strikes?

Passengers warned not to travel by train next week

The strikes taking place in December