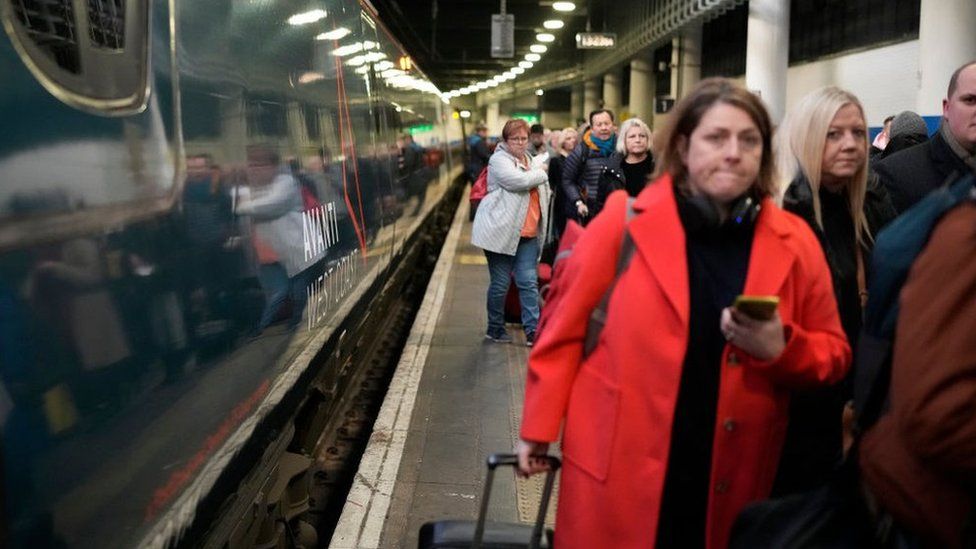 The RMT union has rejected an offer from the group representing train companies which sought to stop strikes in the run-up to Christmas.
The latest round of strikes by RMT members at Network Rail and 14 train companies is due to begin in nine days.
The Rail Delivery Group (RDG) said its offer included a pay increase for staff of up to 8% over two years.
But the RMT said it would lead to huge job losses and called for an urgent meeting with bosses on Monday.
In the ongoing row over pay, working conditions and job security for rail workers, industrial action is currently due to take place across four 48-hour periods on 13-14 and 16-17 December, and 3-4 and 6-7 January.
The RDG said the offer it made on Sunday included a pay rise for staff of 4% this year, backdated to the beginning of the financial year, followed by another 4% next year.
The offer also included a guarantee of no compulsory redundancies until April 2024.
In exchange, it was proposing a number of changes to current working practices.
These included repurposing or closing ticket offices, introducing new multiskilled roles, and Sunday working where it is not in place already.
The group proposed the use of part-time contracts and flexible working patterns, which it said would help bring in a more diverse workforce who could fit in shifts around other commitments.
When are the train strikes?
Passengers warned over Christmas rail disruption
Train strikes could ruin Christmas, pub boss warns
The RMT union's general secretary Mick Lynch said the proposals would not be acceptable to its members.
"We have rejected this offer as it does not meet any of our criteria for securing a settlement on long-term job security, a decent pay rise and protecting working conditions," he said.
Mr Lynch added that if the plan was implemented, it would "not only mean the loss of thousands of jobs" because of the closure of ticket offices, for example, but also the use of "unsafe practices" like driver-only operated trains.
He said it would "leave our railways chronically understaffed."
The RDG had called on the union to avoid "upsetting the travel plans of millions and cause real hardship for businesses which depend on Christmas custom".
Earlier on Sunday, it described the offer as "fair and affordable offer in challenging times, providing a significant uplift in salary for staff".
Although its first offer to the RMT was rejected within hours, it said it would still be open to talks.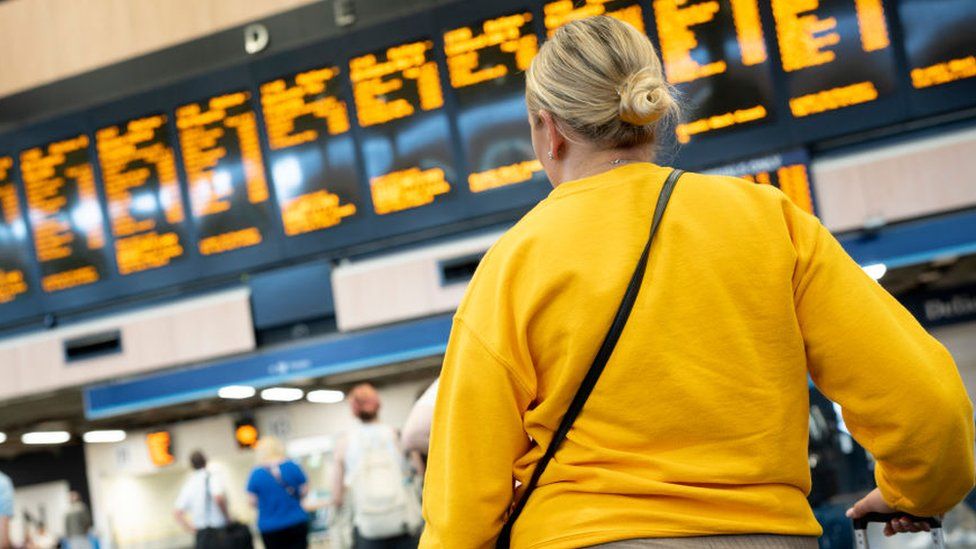 Along with other rail unions, members of the RMT want pay rises to go up in line with the surging cost of living.
Hospitality bosses have raised concerns, however, that if strikes go ahead in the upcoming weeks, pubs, restaurants and cafes will be severely affected during what is usually the busiest time of the year.
UK Hospitality recently warned that the strike action will cost the sector about £1.5bn in lost sales.
Some 40,000 workers are expected to walk out and there is likely to be disruption in the days around the strikes due to trains not being in the right places.
The rail industry is under pressure to save money after the pandemic left a hole in its finances, and bosses say reforms are needed to modernise the railway and make pay rises affordable.
Other proposals by the RDG to "secure the future of the industry" included a move to drivers also operating the train doors, although guards would be still be on board.
The group said there would be opportunities for redeployment and voluntary redundancy programmes for those rail workers who wished to leave.
The proposals it set out would have had to go to local representatives for approval.
Transport Secretary Mark Harper described the rejection as "incredibly disappointing".
He said: "Passengers should also receive the service they've paid for. This deal will help get trains running on time."
He added the government would continue to play its part in facilitating talks between the unions and employers.
The RDG offer is separate to negotiations with Network Rail, which employs about half of the workers in the dispute.
Network Rail, which maintains the railways throughout Britain, also made an offer to the RMT, TSSA and Unite unions on Sunday.
What it describes as its "best and final" offer to staff includes a pay rise of up to 9% over two years and no compulsory redundancies for workers in its general grades and controllers until 31 January 2025.
But it previously said that if strikes are to be called off, it would need to happen by the end of Monday to avoid disruption for passengers.
More on this story
Union 'hopeful' of offer to end rail dispute

Why are so many workers going on strike?

When are the next train strikes?