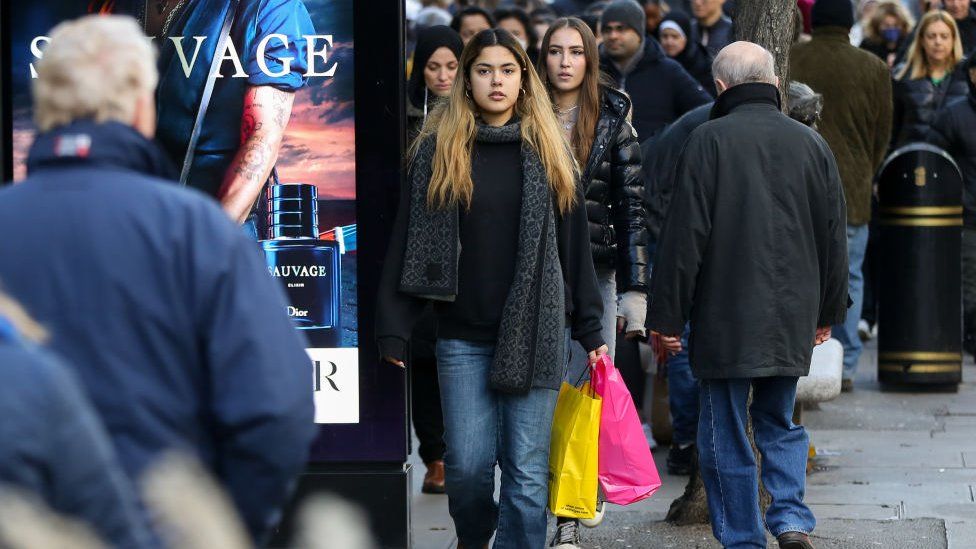 Shops across the country are facing a particularly difficult six months ahead as customers try to cope with higher prices by buying less, according to the body representing UK retailers.
Sales will only rise by 2.3% at most in the first half of the year, the British Retail Consortium (BRC) predicts.
But sales should pick up in the second half of the year, the BRC said.
Retailers are also facing higher costs, and government support for firms' energy bills is due to end in March.
"The first half of the year is likely to be challenging for households and retailers," said Kris Hamer, director of insight, at the BRC.
"Ongoing inflation will make sales appear to be rising, but we expect falling volumes as consumers continue to manage their spending," he said.
When prices are rising customers can end up spending more, even if they are buying fewer items.
During 2022 many customers reined in their spending as prices rose sharply, pushed up by the war in Ukraine, higher energy prices, and the knock-on effect of the pandemic.
This Christmas was the first with no Covid restrictions since 2019, and shoppers did return to High Streets in bigger numbers. However, footfall remained below pre-pandemic levels, hampered in part by rail strikes and severe weather.
The high street shops thriving after a tough year
"From a retailer's point of view there's been a perfect storm of pressures," said retail analyst Richard Lim.
Some well-known names went under in 2022, including furniture store Made.com, and clothing brands M&Co and Joules. Mr Lim said those were the "tip of the iceberg" compared to the number of firms he expects to find themselves in trouble in early 2023.
Many retailers face a reckoning in January, as they calculate whether Christmas takings have been strong enough to balance slower business through the rest of the year.
Tough conditions for retailers, including higher energy bills and weak consumer confidence, are set to continue this year.
Sales, measured by value, may rise by as little as 1% in the first half of the year, the BRC said, with 2.3% its highest forecast for January to June.
However, the BRC's modelling suggests the outlook is better for the latter part of the year.
"There is cause for optimism in the second half of 2023, when we expect inflation to ease and improving consumer confidence," Mr Hamer said.
The BRC said sales could grow by as much as 4.7% in the second half of the year.
More on this story
Post-Christmas shopping footfall beats Boxing Day

The high street shops thriving after a tough year
Related Internet Links
British Retail Consortium
The BBC is not responsible for the content of external sites.