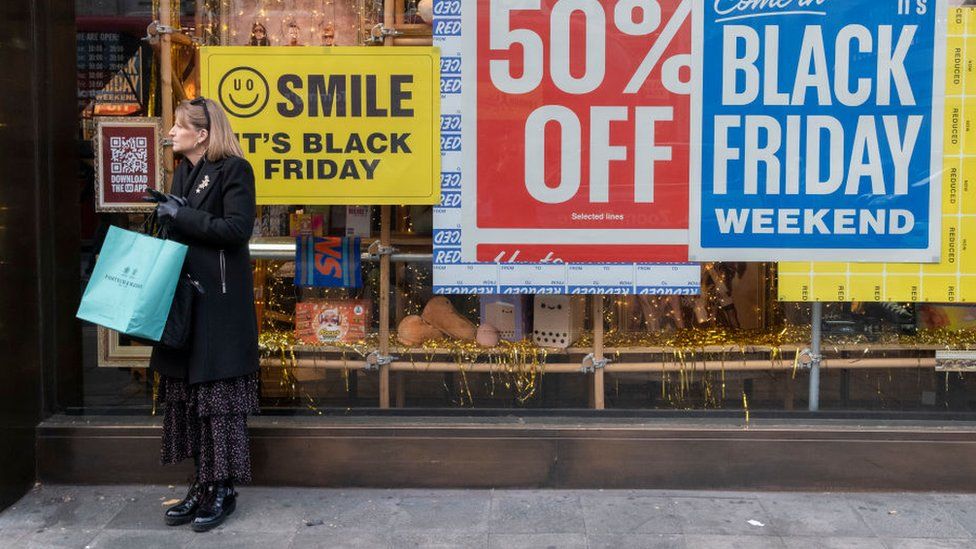 The cost of living crisis may dampen this year's Black Friday sales rush, retail experts have predicted.
This is first festive season without Covid restrictions in place in three years, so the number of people hitting the shops is expected to be up on 2021.
But purse strings will be tighter as prices are rising at their fastest rate in 41 years.
Experts have said sales and profits are expected to be lower compared with 2021 as a result.
Retail expert Richard Lim told the BBC he was expecting Black Friday to be a more "muted affair" with sales down on last year.
"Inevitably, I think what we're going to see is consumers being much more careful with their spending," he said.
Although it is one of the busiest days in the retail calendar, this year Black Friday has to compete with football World Cup matches – including England v USA and Wales v Iran.
Black Friday shoppers warned of 'dubious discounts'
The greener alternative to Black Friday
Overall, footfall at shops around the UK is still expected to be below pre-pandemic levels, retail experts at Springboard said.
For many, it will be the first chance to see High Streets and shopping centres lit up for Christmas as many stayed away during lockdowns, said Springboard's marketing and insights director, Diane Wehrle.
But she also warned that those shoppers would be looking for a hard bargain. "People will be trying to outpace the 11.1% inflation rate," she said.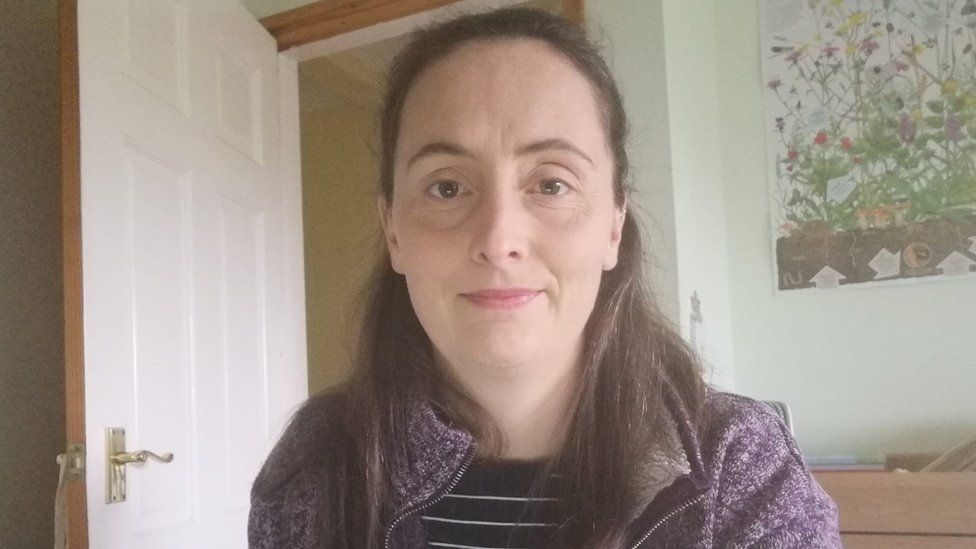 Louise, 40, a stay-at-home mum from Suffolk, said she would not be rushing out for this year's Black Friday sales.
"I use price trackers and can see that some things I want are cheaper in advance, about four to six weeks ahead of the sales, so I do my Christmas shopping around then," she said.
She said all of her household bills were going up. Now shopping feels like a luxury, when she feels like she should be saving.
Black Friday has morphed from its former one-day shopping frenzy of a decade ago, to offers stretched over the week. Consumer group Which? found that many of the discounts found on Black Friday in 2021 could be found at other times of the year too.
Amazon said it was offering savings during the festive season as well as throughout the year.
"We are acutely aware of the cost pressures customers are facing at the moment," said John Boumphrey, UK Country Manager for Amazon.
He said that rising costs and interest rates were squeezing not just low-income households, "but the crisis is spreading to the middle classes as well."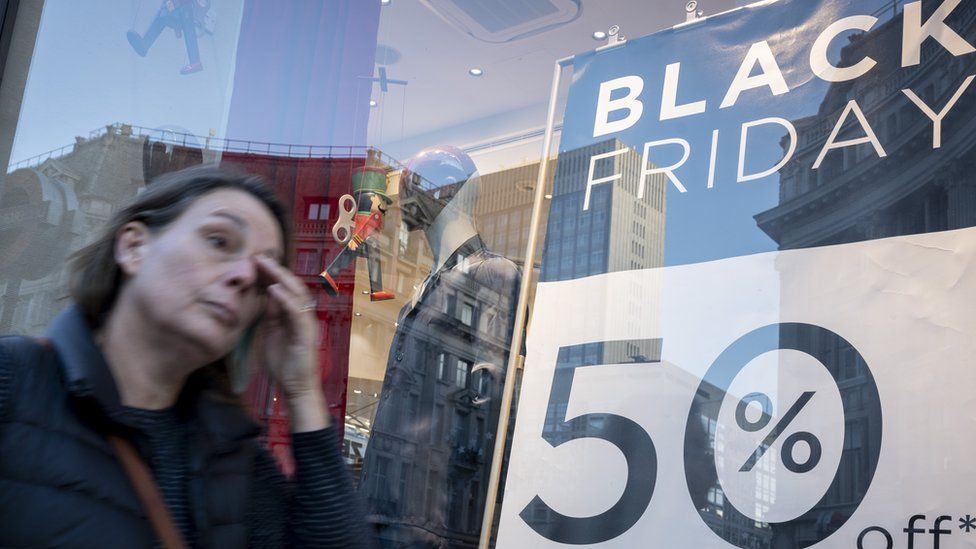 Andy Mulcahy, an analyst at IMRG, analysed figures for the first week of November, when many major retailers launched their Black Friday deals online, to see if they would give a clue on retail's performance on Friday.
But he said: "Electronics, where retailers focused heavily on TVs for watching the World Cup, were still down -9.4%, against -14% for the same week in 2021, so that feels like a disappointing response from shoppers."
Meanwhile, brand consultant Ello Group – which is behind some customer loyalty schemes including Tastecard for restaurants – surveyed 1,000 people and one-third said they could not afford to shop this Black Friday, with 25 to 34-year-olds struggling the most.
Ello's Michael Kalli said that with costs rising rapidly, people's shopping priorities are now "moving from treats to necessities."

Your personalised guide to saving money
Five hacks to help save money on your food shop
BBC experts on six things you can do as cost of living rises


More on this story
The greener alternative to Black Friday

Black Friday warning as most deals are not cheaper

Retailers face toughest festive season in a decade

Black Friday: Why better deals may come next month