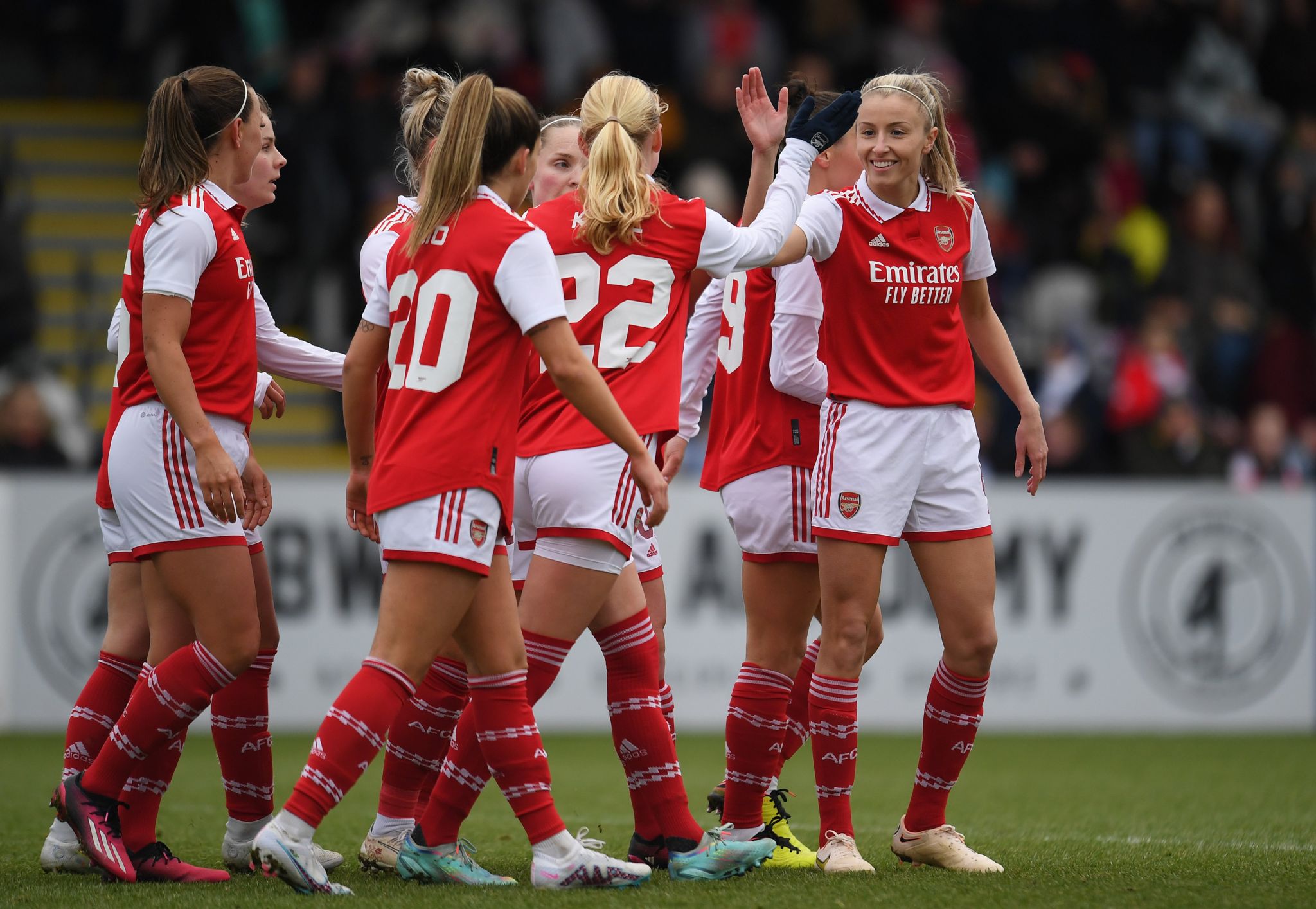 Arsenal Women Football Club has increased pay by almost 30%, according to the latest published accounts.
However the entire team still earns considerably less than some individual male players.
The total wage bill for the 2021-22 season was £4.3m, giving an average figure of £98,000 across playing and non-playing staff.
Arsenal FC said it is keen to grow the women's game in a sustainable way.
These accounts cover the season before the England beat Germany to win the Euros, filling Wembley stadium and lifting the women's game to new heights of popularity.
But they reflect that levels of interest and success that were already growing even before the Lionesses's triumph. Competitive pressures were already forcing Women's Super League teams to increase wages to attract and retain top players.
Arsenal Women's £4.3m wage bill was spread across 44 playing and non-playing staff, up from £2.6m across 35 staff the year before.
It's still far behind the men's team, with a total wage bill in excess of £250m, according to Deloitte's Football Money League.
The salaries of individual players are not declared, but England and Arsenal defender Leah Williamson is thought to be among the Women's team highest earners, with a reported salary of £200,000.
This compares to the best-paid male players, striker Gabriel Jesus and midfielder Thomas Partey, who are reportedly paid a similar sum every week – adding up to over £10m a year.
Female and male players also have individual endorsement deals with brands such as kit makers Nike and Adidas, which will boost their earnings further.
Arsenal said: "We need to ensure we are investing in top players and that means paying competitive salaries – the same principles apply with our men's team."
It said it aimed to make "consistent revenues through commercial partnerships and increased attendances".
The women's team saw a 62% increase in turnover, to £6.9m in the year to 31 May 2022, boosted by the £8m-a-year broadcasting deal agreed between the WSL, the BBC and Sky in 2021.
Matchday revenue also increased to £532,000, with four games held at the Emirates Stadium, attracting crowds of 10,000 or more.
This is expected to increase significantly this season, which has seen in excess of 50,000 tickets sold watch Arsenal Women in action.
More on this story
How much do women footballers get paid?

BBC to show WSL games in 'landmark' deal